Over the span of its short and sadistic life, Noita has killed many players many, many times. It has also released plenty of updates to improve and fix the biome-exploring roguelike. The previous major patch was the Sauna update, which did include the addition of a sauna among other things. Now Noita has released one of its biggest content updates, the Epilogue update.
The Epilogue update will be the final major content patch for Noita. However, as with previous major updates, there will be hotfixes and small patches. The Noita team also highlights its amazing modding community, which continues to produce content for the roguelike.
If you'd like to check out the full release notes, you can do so on the Noita Steam page. In keeping with the roguelike's punishing gameplay, reading the change list is also a challenge. It is brutally lengthy at 319 items long.
Noita Epilogue update highlights
If you'd like to spend more time being punished in-game and not reading patch notes, here are some of the highlights in the new update. There are new achievements on Steam and GOG for you to chase after.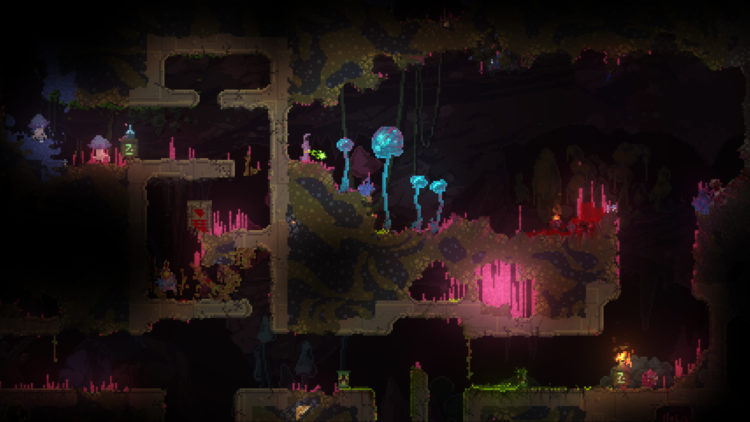 Your spell repertoire has 34 new pieces of magic for you to perform. Some of the more interesting sounding ones include Glue Shot, Projectile Area Teleport, Black Hole with Death Trigger, Gold Magic, Plasma Beam, and Vacuum Field. Actually, almost all of them sound like fun.
The Epilogue update also adds two new minibosses and 12 new listed enemies. As for perks, you now have 14 new ones to choose from. Some of them are wonderfully named. Eat Your Vegetables is my favorite, but Risky Living and Gas Blood sound equally entertaining.
There's also a whole bunch of redacted stuff, which isn't very subtly labeled under "Secrets." The spells and perks changes both include secret items too. Keep an eye out for some fun surprises.
If you'd like to know a bit more about Noita, you can check out our review. If you don't own the roguelike yet, you can pick it up on Steam for 25% off its usual price until April 7.