If you're a glutton for punishment, then it sounds like you might be the right fit for Deadleaf Games' Nom Nom Apocalypse. The top-down shooter has been compared to the other hard-as-nails titles, like Enter the Gungeon, teeing up expectations for one helluva difficulty level, not to mention rogue-lite elements. Now, the one-person studio has announced a February 13 release date for this shooter.
Pew-pew-pew
Well, it looks like the apocalypse has struck, and it's surprisingly filled with formerly delicious grocery foods. As the spaghetti and meatballs go ballistic, it's up to an arsenal of "trigger-happy chefs" to defeat the monsters. Immediately looking at the gameplay in the trailer, you can see similarities to the aforementioned Enter the Gungeon. And, similar to Gungeons copious amounts of pew-pew's, Nom Nom Apocalypse will feature a massive 45 perks, like Iron Aprons or ones that divvy up some kill-streak bonuses. Outside of perks, abilities include "giant rolling pins and bubble gum shields."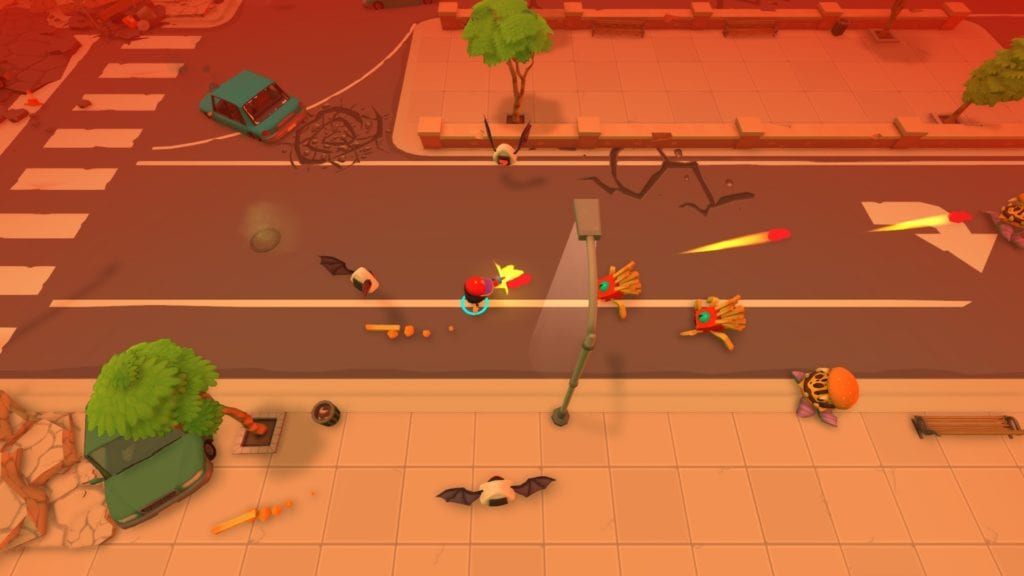 Bring a friend!
It looks like Nom Nom Apocalypse will also support one of Steam's latest features, which is Steam Remote Play Together, allowing you to play couch co-op games with only one person owning the title on Steam. So, grab a gun to take on the many mini-bosses and unruly enemy herds. It's also noted that the longer you survive, the more difficult the enemies and journey become. After my own personal experience with Enter the Gungeon, it looks like you're in for long strings of deaths and expletives. But hey, it's described by its developer as a "love letter to classic monster movies," and that's kind of promising, right?
Nom Nom Apocalypse will release on February 13 on PC via Steam. There isn't currently a price listed, but you can add it to your Wishlist at this time. The other platforms planned for release include the Xbox One and Nintendo Switch, and these will come sometime in 2020. For now, it's unclear if there are any plans to incorporate cross-platform play between the three launches.