Outriders was recently pushed back to February 2021, as developer People Can Fly continues to finish up on development. Even so, the current state of the game looks promising, with a solid amount of content in place. The team says the main storyline for this co-op shooter clocks in at around 40 hours, but there's more. Outriders' end game content has been further detailed in a lengthy gameplay video, and it looks like you'll be going on some expeditions soon.
When the story mode clocks out, you'll be transferred to a new camp. From there, a mission map will enable you to go out on Expedition missions, in solo or co-op. These Expeditions will feature new locations, mission types, and even additional story details for those wanting to get a bit more mileage out of Outriders. People Can Fly says that Expeditions won't feature any recycled content from the main campaign, which is good to hear.
The developer also says to expect a tough fight. Expeditions in Outriders have been developed to test end game players, encouraging you to get into the nitty gritty of specialized character builds. Loot is also left until the end of a mission here, so you'll have to clear an Expedition to maximize your earnings. If People Can Fly can deliver enough variety, Expeditions could keep people playing for months.
The Archways of Enoch
Towards the end of the video, the team shows off a mission. The Archways of Enoch Expedition takes players deep into the forest, following a mysterious noise. The quick look showcases the game's environmental variety, and we love the look of the overgrown landscape. The Expedition culminates in a boss fight against some not-so-friendly monsters.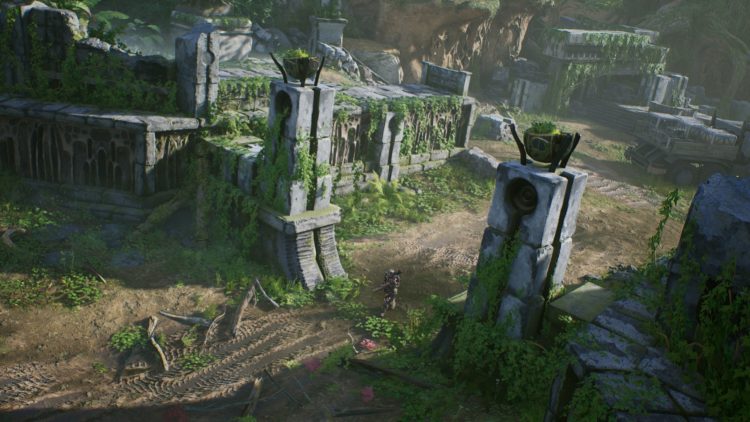 Gameplay wise, Outriders looks very similar to BioWare's Anthem, another recently released looter shooter. Hopefully, People Can Fly has built a stronger foundation than Anthem with Outriders, to keep people coming back. Player retention is key with these online looter shooters and Outriders will be desperate to stay relevant in a very competitive space.