Developer People Can Fly showed off the tech and world environments of Outriders during a panel at PAX East 2020 today. During the "A New Flavour of Sci-Fi; Creating the Story and Universe of Outriders" panel, the team cracked open some ice-cold B-roll called the "Frontiers of Enoch" for you to quench your thirsty eye balls. Wait, that doesn't sound right.
The Frontiers of Enoch video focuses less on actual gameplay, and more on visuals of the game. After watching through this video twice now, I can, without bias, say that this is a damn pretty game. The footage is all in-game capture, boasting some mighty fine graphics from lighting to fog — a lot of fog. Developer People Can Fly is certainly pouring a lot of effort in making Outriders stand out with its gorgeous visuals.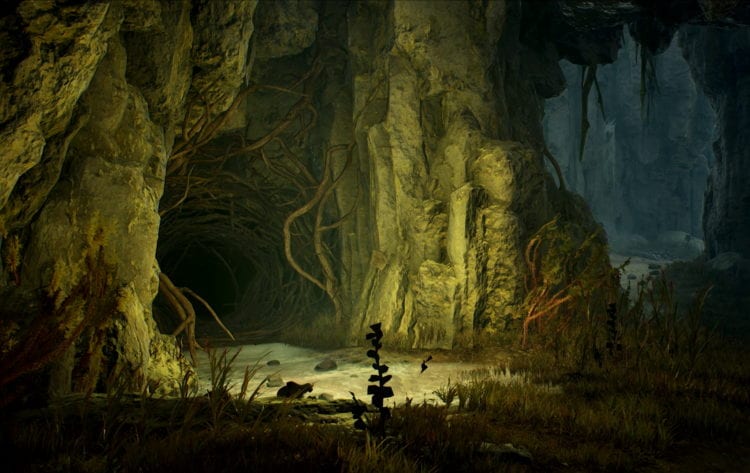 But it's not just the looks that elevate the game, but the world the engine helped create. From impressive mountain vistas, to deserts, and the destroyed remnants of civilization, Outriders is aimed on taking you for quite the sight-seeing tour. In one shot of the video, a ruined fleet a tanks sit buried in sand in a desert as the immense heat causes the air to shimmer. A dense, misty jungle is slowly reclaiming the structures left by prior inhabitants in another scene. From snowy mountains to caves rich in flora, Outriders has its biomes covered.

A whole new world
What I found most interesting in the video was the more alien environments. Forests and mountains are certainly nice and recognizable to the point of comfort. However, there is certainly a sense of unease when presented with a dry, rocky location with what appears to be hornet nests dug into the earth. I'm not ready to awaken that hive. Beyond that, there are also areas featuring red sky crackling with blue lighting, where gravity seems to be more of a suggestion than a law.
"In the 30 years that have passed since the Human colonists' arrival, the once peaceful wildlife and environments of Enoch have hyper-evolved from exposure to the Anomaly, turning nearly every living creature into something designed to kill," read the press release. "The untamed frontiers of Enoch are filled with dangers that will test the Outriders fortitude to the limit."
Check out the full Frontiers of Enoch video above, and look toward Outriders as it heads to PC this holiday season.