Overwatch 2 is going to implement numerous changes thanks to its use of a new technology created or implemented into the game's engine. In a recent blog post, members of the Overwatch 2 development team revealed a new feature that allows them to easily create multiple environments and weather changes for each map.
Environment States is a new technology that allows the devs to split up environmental effects into independent assets that can be freely altered. Instead of having one set environment for each map, the game will allow for the tuning of specific aspects, such as lighting, without changing anything else. According to lighting artist Fabien Christin, Overwatch maps are usually designed to create certain moods and the addition of this feature will "entirely change the feeling of a location".
Thanks to Environment States, different combinations of weather, lighting, and sound can be applied to Overwatch 2 maps seamlessly going forwards. This will also allow the developers to test out already existing Environment Scenarios from one map and applying them to another one without much trouble.
For example, the Necropolis map is known for its dark colors and night scenario. On the flip side, the Temple of Anubis map features bright and vibrant colors to represent a desert. The Environment State from the Temple of Anubis then applied to the Necropolis will give the map a daytime effect and a sunny look.  By using Environment States, the developers can create new environment prototypes for existing maps in just a few hours.
Environment States will also affect gameplay in Overwatch 2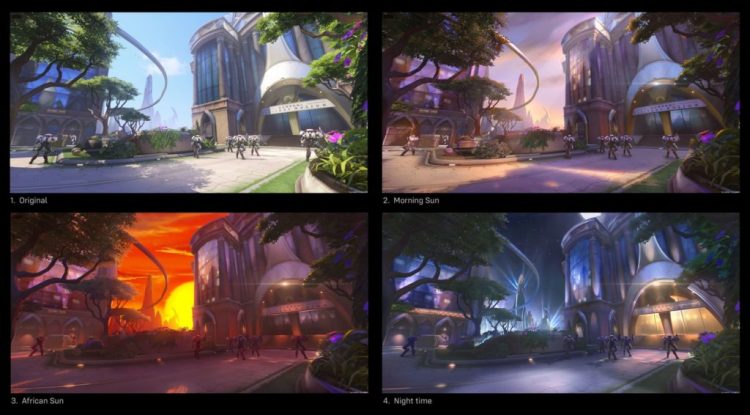 These different Environment States aren't just for show either. The developers stated that they can also "develop new and exciting gameplay opportunities". Here's an example of this: adding thesandstorm Environment State added over a Sunny Scenario would limit player vision and make things more challenging during Hero Missions. These changes can also help update map environments to match certain in-game events. One example given in the blog post is adding thicker fog to specific areas of a Halloween-themed map.