Start prepping those straightjackets, wardens. Your dreams of furthering your prison empire are about to get even more intense. This weekend at PDXCON, Paradox Interactive announced that Prison Architect's expansion, Psych Ward: Warden's Edition, will release on PC on November 21.
Prison Architect is a popular prison management game originally developed by Introversion Software. Prison Architect won a BAFTA in 2016, so it is definitely worth checking out. Psych Ward was developed by Double Eleven and first released on consoles in 2017. After two years of console-exclusivity, this content is finally coming to PC as the Warden's Edition.
Paging Nurse Ratched
The brief trailer doesn't reveal much. An upset inmate struggles against his straitjacket under the watchful eye of a warden or psychiatrist. An orderly looks on in shock. There can't possibly be anything unethical going on here, folks.
We did get a nice bird's eye view of the psych ward, though. The floors are white and blue, and some relaxing, warm colors might be the psychiatrist's offices. This prison stands out from the typical blob of grey concrete slabs that I have usually seen in other pictures of Prison Architect.
Psych Ward: Warden's Edition will bring a lot of changes to Prison Architect. The biggest change seems to be the inmates of the psych ward itself. Criminals can now plead insanity, which means you might be getting a batch of unpredictable inmates. You have a few options on how to treat them. Will you let them socialize with other inmates to rehabilitate them? Or will you have your orderlies put them in a straightjacket and toss them into a padded cell? They are also adding psychiatrists and psychiatrist's offices, along with the appropriate decorations. Rorschach tests, anyone?
Other goodies are also being added to the game, such as additional contraband and new floors, walls, and objects. The added unpredictability of these new inmates could introduce new dynamic gameplay. In Prison Architect, you know that a murderer is dangerous and can plan accordingly. What's to prevent a relatively minor offender with mental health problems from completely breaking under the pressures of confinement?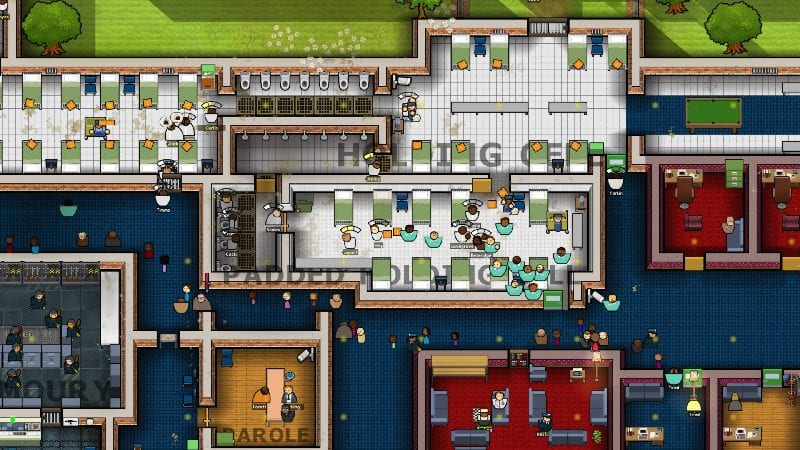 More and more content
We will likely be seeing more DLC in the upcoming year. According to Steacy McIlwham, product manager for Prison Architect, "Psych Ward: Warden's Edition is just the start of our plans for Prison Architect, we have so much more in the works that you'll hear about soon."
In fact, it looks like you might be heading to Alcatraz soon, or at least Prison Architect's version. Check out the trailer Paradox released teasing another expansion coming out in 2020:
You can pick up Psych Ward for $5.99 USD on November 21. Learn more about it here.