Koch Media and developer Myrkur Games have revealed Project Echoes of the End. The game is coming under Koch's new publishing label Prime Matter. Described as a single-player, narrative-driven RPG, Echoes of the End is pretty damn early in its development. However, we do have some tidbits to share.
Echoes of the End (name pending) stars Ryn, a fighter traveling through a fantasy world. A battle-hardened fighter, Ryn also boasts a rare power. She can both manipulate matter, or destroy it entirely. We got a look at Ryn in some early screenshots, showing her in dark armor and wielding a curved sword. Along her left arm are dark, vein-like marks that glow purple, likely when she's using her powers. As a narrative game, you control Ryn and interact with other characters. There will also be combat and puzzles to solve.
More information came out today during the Koch Primetime stream. The narrative director of Myrkur, Magnús Friðrik Guðrúnarson, said Ryn lived her life as a warrior. However, she was "cast away from the life she's always known." Now, possibly exiled, Ryn sets out to find herself, meeting people and deciding her own fate.
"For us, what we really want to explore is a marriage of a cinematic experience and the narrative, choice-driven storytelling of RPGs," Guðrúnarson said.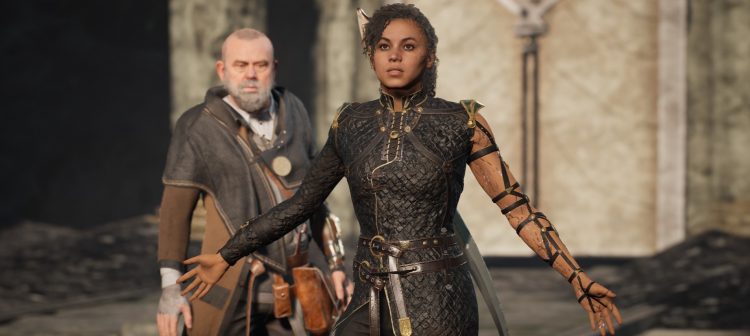 Against the world
Myrkur Games is headquartered in Reykjavík, Iceland, and the studio has used the country in creating the world of Echoes of the End. According to the team, the game has been heavily influenced by the cold, rolling green hills of Iceland. Halldór S. Kristjánsson, the CEO of Myrkur, said that many on the team have lived in different areas around the country. The team has used their experiences living in Iceland to help create the environments of the game. But will there be trees?
Project Echoes of the End is still in development, but there should be more information on the game in due time.