When I first learned of The Pizza Delivery Boy Who Saved the World from Oh, A Rock Studios I was hooked. Not just the premise of time travel, pizza making but the sheer amount of detail that went into it. From the moment I booted up the game, I felt like I was transported to the late 80s 90s with the feel of the game. It was very similar to the style of SNES games but without any of the 16-bit graphics. All of the pictures, locations, backgrounds etc are all real pictures that were carefully edited and animated to bring them to life. The team left no detail untouched including all the dialogue options, mini-game added and even the funny achievements.
Story:
Without giving too much away, basically you are cast as the almost 30 something-year-old Pizza Delivery Boy and you can name him whatever you want. You hate your job, your life, your co-workers and boss are awful and you work your hardest when suddenly a guy who strangely looks like you enters your life, claims to be your future self and tells you he needs your help.  Beyond that, you have funny hilarious antics in the pizza delivery place itself, and interactions with some rather interesting customers. It's cheesy but entertaining and sure to turn your dull day around. Don't forget the added time travel and love interest known as "The Pizza Goddess" .
Easy Game Play:
The Pizza Delivery Boy Who Saved the World, has easy enough gameplay, just click the dialog options in a true choose your own adventure style. No literal gaming skills needed here which makes it an easy enough game to get into for a quick gaming session on a rainy day. You can easily beat it fully in about 2 hours. They also have a guide on the Steam page which tells you how to unlock some funny sounding achievements. On my first playthrough, I unlocked 13/15 of the achievements then went back to unlock the rest via the helpful guide.
That Pizza Mini-Game:
One of the things that I truly loved about this game was the addition of the pizza mini-game in the middle of the story. It was a nice surprise and kind of funny how you can easily mess that up. Yes, you can get an achievement for being a horrible pizza maker or a master chef. The helpful pictures let you know whether you are on the right track to slicing it or not.
Those Graphics: and the "Acting':
What truly impressed me was the combination of live action animation with the CGI graphics. Every actor had to act it out frame by frame which could not be easy and is very very time consuming. I loved the look and feel and yes although the "acting" is not Oscar worthy it fits the theme of the game and will leave you laughing.  According to the official release they too about 250+ photos to put into this game plus the pizzas-you can't forget them! You really have to hand it to the development team for creating such a unique feel to this game and for putting so much effort into it. Also there is a pretty funny "Game Over" screen if you mess up your choices.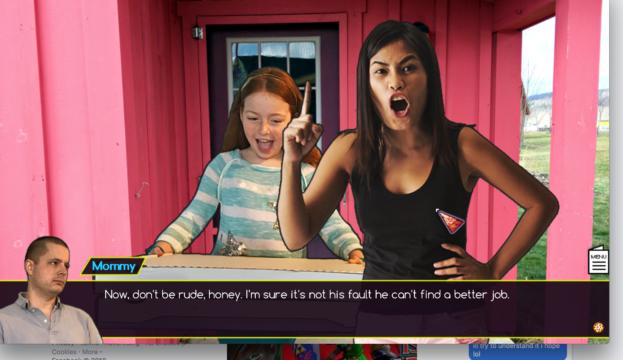 Final Thoughts:
Overall I gave this game an 8/10 because it really was enjoyable but there were 2 things I would love to see added. 1) A bigger version of the pizza mini-game perhaps as an "added content". 2) I would have loved to have seen you unlock a bonus chapter or bonus content once you complete the game fully one time. The Pizza Delivery Boy Who Saved the World is out on Steam now for about $8.00.  You can check out our previous coverage on the game here.