There's no better time to pick up a creepy game for the season than when it's on sale. Those creeks and moans might be the sound of your wallet opening or maybe even that masked murderer behind you. Either way, if you'd like to get into the season in a full-on celebratory fashion, the Steam Halloween sale is going on now and will run until November 1.
What Was That?!
If you're looking over your shoulder, it's probably because you don't want your significant other to observe the financial slaughtering you are about to partake in. The sale extends to horror games but also brings in a few other recent releases, such as Shadow of the Tomb Raider. It doesn't necessarily count as a horror game per se, but it does have some darker themes to it.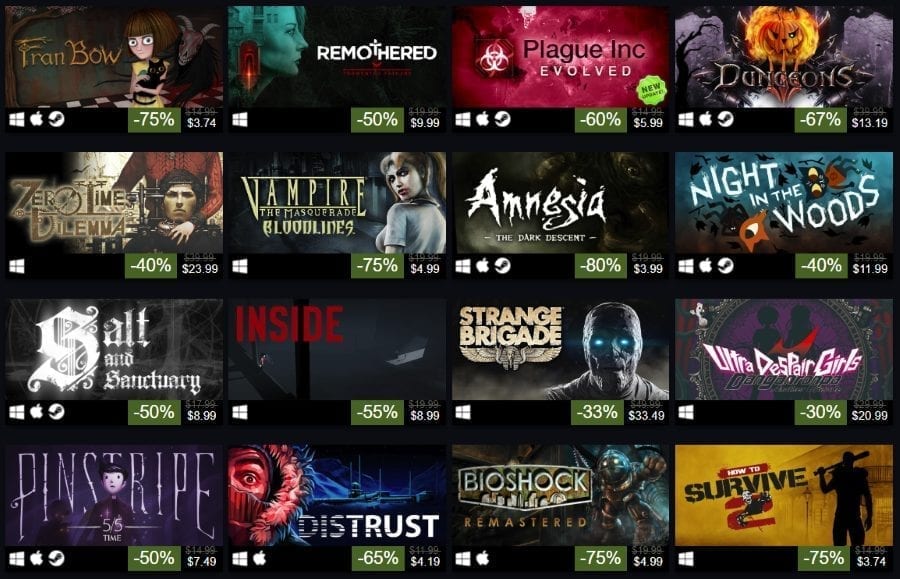 Some other notable titles are The Evil Within, Dead Island: Definitive Edition, Inside, and Friday the 13th: The Game. If it's a truly immersive experience you are seeking, Steam also has a number of different VR games on sale. Titles like Dead Secret, Dreadhalls, and Killing Floor: Incursion will also see some hefty price cuts.
Free To Play
The end of the year might be the most stressful time of the year for your bank account. Things like Black Friday and Cyber Monday are just inching over the horizon. If you happen to be watching your spending habits like a hawk, there are still a few options for Halloween themed games. A free-to-play section has also risen to join the sale, and hopefully it can give you a break from the usual fiscal frights. Dead Frontier II, Deceit, and Dark Deception are among the free titles you can add to your Steam library.
Are you planning on picking up any of the games during the Steam Halloween sale? Or is there one game that you play through every year about this time? Let us know in the comments below!