I'll be honest, out of all the early Xbox One exclusive games, I never would've expected Insomniac's Sunset Overdrive to come to PC. And yet it's looking like that might be changing. Nothing is confirmed at the moment, but some pretty decent evidence has emerged that says Sunset Overdrive will receive a Steam release soon.
Why release a PC version now? Well, fans have been clamoring for Sunset Overdrive to come to other hardware since the game's initial 2016 release for a number of reasons. I mean, it's an action game based on exploring a vibrant city by parkouring. That sounds fun all on its own, but such games are also great for high-end PCs and custom mods. In addition, the game runs extraordinarily well, and that same optimization could mean that even lower-end PC players could run the game at higher settings.
The Evidence Is Growing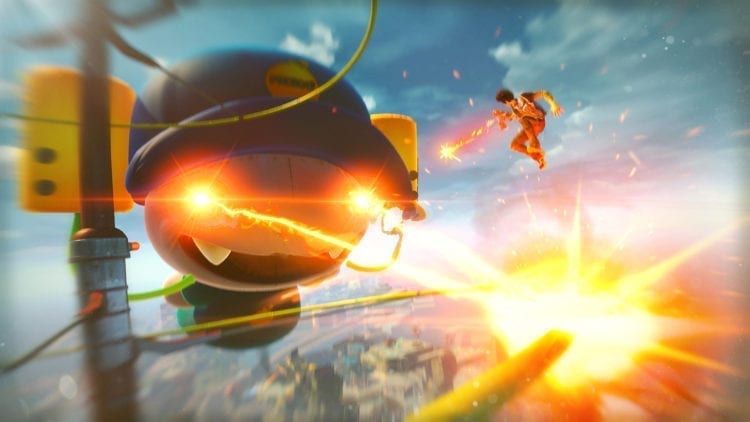 In the past year or so, there have been several hints dropped of a PC port for Sunset Overdrive. The newest evidence, though, came yesterday from Twitter user Wario64. Thanks to him, we can see that a listing for it popped up on the Steam database, as well as on the ESRB site. Unfortunately, since Wario64 made his tweet, Steam has removed or hidden the database info (though the cover art for the game is still visible). It could mean they added this listing in error, but it's just as likely that Steam is covering their tracks. The latter seems more likely, as no such efforts have been made to remove the ESRB rating.
Assuming this is all legit, it likely means the PC version has been in the works for a long time. There has been no official word on this from Insomniac yet, but they have expressed interest in a PC version previously. They could have easily thrown a small team at this as a side project or hired a third party. All they needed to do was wait for the Xbox-exclusivity deal with Microsoft to run its course.
What Is Sunset Overdrive?
If you're unfamiliar with Sunset Overdrive, I'll give a brief synopsis. The tubular title is made by Insomniac Games, who recently found another titanic success with Marvel's Spider-Man on PlayStation 4. They're also the legends behind the Ratchet & Clank franchise.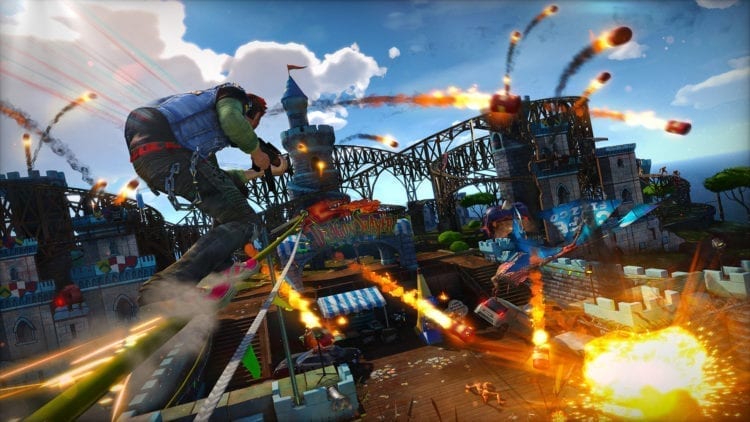 The entire game takes place in Sunset City, where your highly-customizable character is just trying to get by. A new energy drink from FizzCo is released called OverCharge Delirium XT. It has some side effects, though, such as causing an entirely absurd mutant outbreak. Following this, the city is sectioned off and you're left to your own devices as you attempt to help whoever you can while exploring.
The two most notable features of Sunset Overdrive are its radical atmosphere and the movement options. The game is almost like a theme park, with tons of surfaces to bounce off of, rails to grind on, and zip lines to ride. Traversal is tantamount to surviving this mutant plague. And with the hyper-saturated colors and 90s-like atmosphere, the tone is lighthearted. The game does fall into many of the open world cliches though, and some of the movement options feel quite awkward. Even so, it's an exceptionally fun game.
Could This Lead To A Sequel?
The original game sets itself up for a sequel pretty well, but sales likely weren't high enough to warrant one. Sunset Overdrive released back when Microsoft didn't have the best marketing for the Xbox One or the games on it. But, if sales do well on a PC version, it could easily mean a surefire sequel. And it's not like Insomniac is hurting for cash after Spider-Man's astronomical success.
But what are your thoughts? Could this mean a PC version, or is it too soon to tell? Do you think Sunset Overdrive is good enough to do well on Steam? Let us know in the comments down below.