It's only been a week since Valorant Episode 2 Act I launched, but Riot Games has already rolled out a new patch to improve the player experience for the new season. The main focus of this unexpected Valorant patch is to rework the Split map. There has been considerable reconstruction done. The patch also continues Riot's efforts to tweak map controlling abilities and adjust the restrictions on AFK players.
One item not addressed in the patch notes is the Competitive queue times for top Radiant players. Since Episode 2 kicked off, these players have been forced to play on smurfs because their queue times were far too long. According to a tweet from the Valorant account, these players should be able to find games slightly quicker now. However, the developer will continue to monitor the situation.
As you can see from the patch highlights image above, the agent that has been adjusted isn't actually a Controller. Jett is a Duelist. However, her Cloudburst ability servers the same purpose as Omen, Brimstone, and Viper's smokes. So, you can consider it a Controller ability. For teams that like to play aggressively, she can replace the Controller agents entirely. Plus, you still get all of the benefits of her Duelist abilities.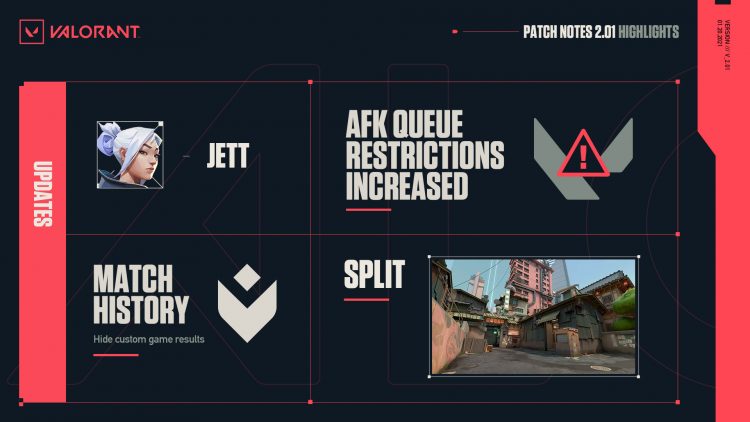 That's too much power for one agent, so Jett has been hit with the nerf bat. Jett's Cloudburst duration has been decreased from 7 to 4.5 seconds. That makes it only half a second longer than it was before the game launched in patch 1.0. The Valorant team will continue to watch how Jett performs, but are adamant that her role is to create brief windows for high-impact gameplay – like the other Duelists – and not to control vision and movement around the map.
Valorant Split map changes
The Split map overhaul in this Valorant patch is significant. Riot made 13 changes around the map to considerably alter how these sections play. According to the Valorant team, these changes will improve attacker options. They will also reduce 50/50 checks and open up certain sections of the map.
If you'd like to see exactly how the changes look, you can check them all out in the 2.01 patch notes. I've chosen a few of the more significant changes to show below.
This box stack gives you another angle to hold B Rafters post-plant. It's wood though, so don't rely on it once you've been spotted.
Two more quality-of-life changes have also been rolled out with the latest patch. You can now hide custom games from your match history. It's a nice touch since winning isn't always the objective in custom matches – you may be experimenting or training.
The other update is a change to how AFKing (or being absent during the match) is punished. There's a fine balance between punishing people experiencing technical issues and those who are intentionally abusing the system. With that in mind, Riot has implemented AFK forgiveness for a certain number of rounds. However, repeated and extended occurrences of AFK behavior will be penalized more harshly with higher queue restrictions. You have been warned.