Crema is doing a solid job of refreshing the Temtem Saipark every week. Usually, there's something new on offer for players to go after. With the latest Temtem Weekly Reset, players will find their first increased Luma encounter rate with an evolved Temtem, Mudrid. Plus, you can finally get Dust Vortex on Bunbun. There are also three Vigor DNA Strands on offer from the FreeTem! Organisation.
The Temtem team is clearly having fun with the flavor of this week's Saipark selection. Both of the Temtem you can catch are bunnies, and one, Bunbun, has an incredibly high chance at an Egg Move. Bunnies and eggs. I think that's the team's way of saying, "Happy Easter".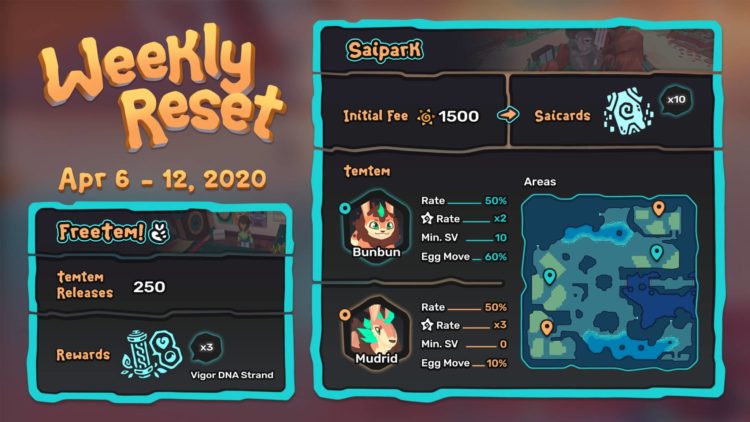 FreeTem reward – a big saving for breeders
Unless you're into breeding, the Temtem Weekly Reset reward from FreeTem isn't going to be your number one priority. Usually, FreeTem rewards apply to the entire player base. It's been a while since Crema has offered a breeder specific one. And I imagine it's not going to go down particularly well.
The Vigor DNA Strand ensures the Temtem holding it will pass down its HP (health) and STA (stamina) SVs (Single Value stats) to its child. It's a crucial step in the breeding of a perfect SV Temtem. At 5,000 Pansuns a pop, the Vigor DNA Strands are costly. So, breeders will be happy with the financial saving. Everyone else can focus on other things this week.
Weekly Saipark Temtem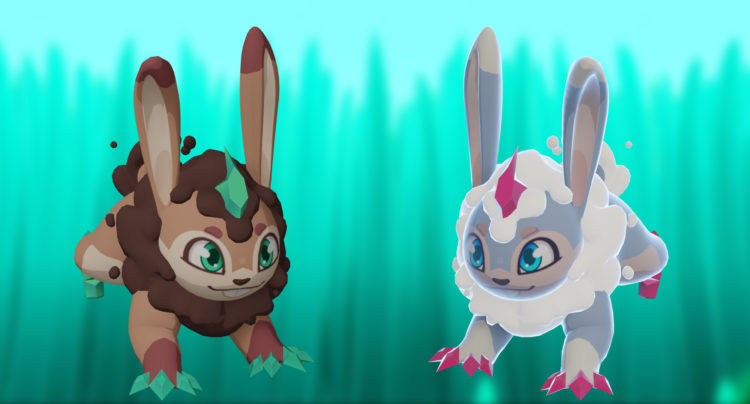 The bunnies have invaded the Saipark with this week's Temtem reset, and they offer players two endeavors worth pursuing. Option one, try and catch a Bunbun with good SVs and an Egg Move – ideally Dust Vortex. Until now, there has been no way to get Dust Vortex to Bunbun, not even through breeding. That makes this an incredible opportunity for all prospective competitive Temtem tamers.
Bunbun and its evolution Mudrid have better SPATK (special attack) than ATK (physical attack), so Dust Vortex is the preferred Egg Move to Crystal Bite. And, as mentioned, there is no other way to get Dust Vortex on these Temtem. Crystal Bite, meanwhile, can easily be picked up through breeding. Aside from the new move available, this week also doubles the chance of Bunbun being a Luma.
Option two, which many people will probably be interested in, is to try and catch a Luma Mudrid. This is the first evolution of a Temtem the Saipark has ever had, and your chances of encountering it are three times better than normal. So, you have a 1/2,666 chance to encounter it. However, you only have a 50% chance to encounter a Mudrid in the Saipark, which is going to slow you down.
The Saipark's Temtem Weekly Reset is offering a bit to both breeders and Luma hunters this week. And, of course, the Dust Vortex Egg Move provides something for competitive tamers. It's one of the most exciting weeks we've had, if you ask me. I just wish the encounter rate for Bunbun and Mudrid was better.
Still, there's lots to be done. Better hop to it.