Hippolyta's Amazons is a new faction in A Total War Saga: Troy. She's got one of the easiest campaigns around, although not as uniquely refreshing as a run with her sister Penthesilea. Regrettably, I did encounter a few glaring issues during my playthrough, which I'll outline in this guide.
Note: For more information, check out our Total War Saga: Troy guides and features hub. Likewise, be reminded that this guide is for the veteran (very hard) difficulty.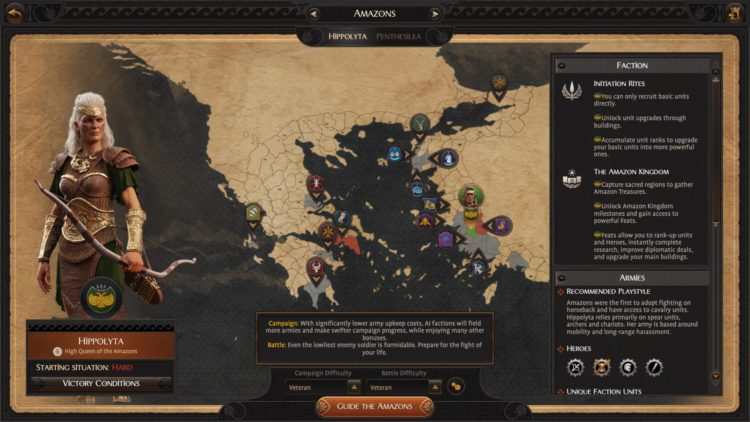 Total War Saga: Troy – Hippolyta's Amazons guide
Hippolyta's Amazons faction won't lead to a completely revamped playstyle since you're not leading a horde. Instead, this will be akin to the other rulers you've played as in Total War Saga: Troy. The High Queen of the Amazons has the following Homeric Victory conditions:
Complete all 13 epic missions.
Unlock all five Amazon Kingdom milestones.
Control all six Sacred Settlements.
Ensure that the following factions are confederated or destroyed: Mycenae, Sparta, and Athina.
Control Athina directly or through vassals/military allies.
Let's move along and check out how Hippolyta's Amazons would fare in your Total War Saga: Troy campaign. Click on the pages below for the mechanics that you need help with: