Uncharted 4: A Thief's End is set to explore new territories on PC, according to a invoice reconciliation (IR) document shared by Sony today. Deep in the document under the tag "New Growth Vectors: PlayStation Studio," there is a section devoted to PC. Under "More PC releases planned," we see Days Gone, which hit PC last week. And just under it is the unmistakable logo for the fourth Uncharted game.
It's clear that Sony President Jim Ryan was serious about bringing more of the publisher's games to PC. Ryan mentioned in February that "a whole slate" of PlayStation exclusives was on the way to our platform of choice. Up until now, we've had both Horizon Zero Dawn and Days Gone ports on PC. Now, it looks like PlayStation 3 poster boy Nathan Drake has one more adventure ahead of him.
Granted, Uncharted 4 wasn't immediately in my list of PlayStation games I'd like to see on PC. The game launched on the PlayStation 4 back in 2017, bringing an end to Drake's story of treasure hunting, bad guy shooting, and dry sarcasm. Uncharted 4 once again put Drake on a new quest, joined by his estranged brother Sam. It was a good game, mind, and their hunt for hidden pirate booty was a fun narrative to follow. The inclusion makes sense, as the franchise was one of the big system sellers for Sony for many years.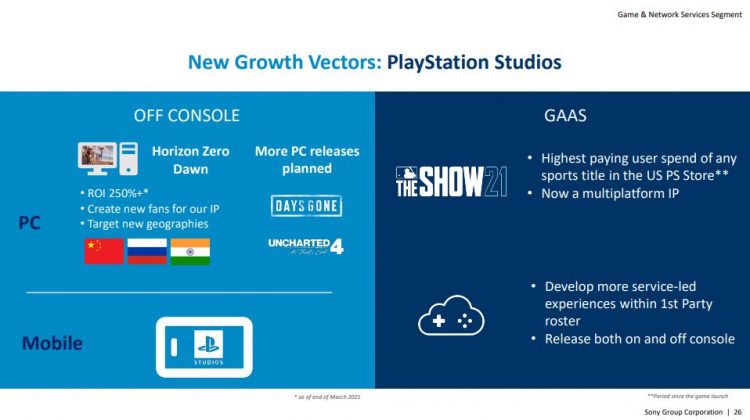 Uncharted 4 may join Horizon and Days Gone on PC
The game's inclusion on the IR document isn't quite an official announcement. However, I don't have many doubts that Uncharted 4 is now on the way. We'll likely hear more about it next month during E3, and hopefully with a release date in tow. If confirmed, it'll be great to see Uncharted 4 running on more powerful hardware. The game was already plenty gorgeous, but the capped 30 fps did make some of its breathtaking vistas a bit muddled.
We'll keep an eye out for any future announcements from Sony.