We're a few weeks away from Watch Dogs: Legion, which launches October 29 on PC and current generation consoles. As we near release, Ubisoft continues to deliver pre-release looks at Legion, and the latest is a new story trailer. The Reclaim your Future trailer asks the residents of London to join the resistance and reclaim the city.
It's all very anti-establishment, a theme that the Watch Dogs series has built itself upon. The backdrop of a modern, post-Brexit London is an interesting one though, and it might make the themes hit a little harder for some of us. It should make an interesting location to explore at least, and its in-game makeup looks a lot more densely packed than the likes of Chicago and San Francisco, the locations for Watch Dogs 1 and 2.
Elsewhere, the trailer doesn't show us much of what we haven't already seen. It is a little more serious in tone than most of the pre-release content though, which has focused on stereotypically British accents and some grannies fighting. It will be interesting to see if Ubisoft deliver a story that even slightly reflects reality, but after their efforts with Far Cry 5's Montanan cult, we're not so sure.
The technical details
Last month, Ubisoft revealed the full PC specifications for Watch Dogs: Legion. At the time, the team broke down the kit you'd need for certain setups and resolutions, ranging from 1080p to full 4k. However yesterday, the tech spec was updated, and Ubisoft now claims that the recently released RTX 3080 is a requirement for 4K Ultra Settings.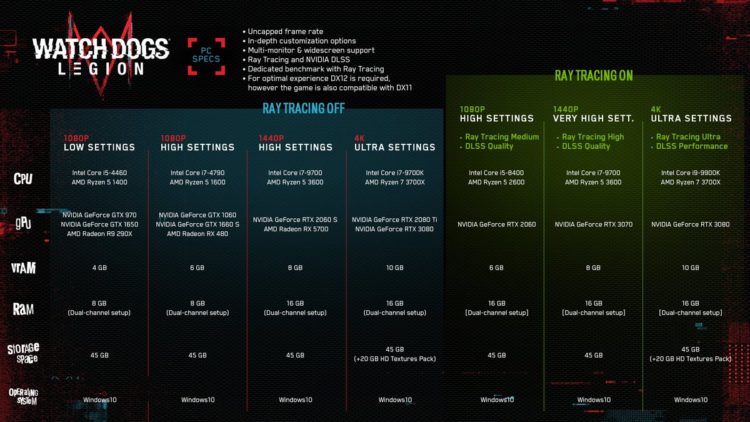 September was also the month for Ubisoft's second Forward event. At Ubisoft Forward 2.0, the company told us a little more about Watch Dogs Legion. Chief among which were a few character additions, like British grime artist Stormzy, and the return of Aiden Pearce from the original Watch Dogs.
Watch Dogs: Legion launches October 29 on PC.