Zeratul will be the next co-op commander in StarCraft II: Legacy of the Void. It's an alternate timeline story, for those of you concerned with lore. Zeratul will be available with the 4.7.0 patch. Those with the Master Bundle will already receive him, otherwise you can pick him up by himself.
In the story, Zeratul survives his battle against Amon. He leads a small, select group of warriors in to battle. As a co-op commander, Zeratul utilizes the power of the Xel'Naga for upgrades and to bolster his army.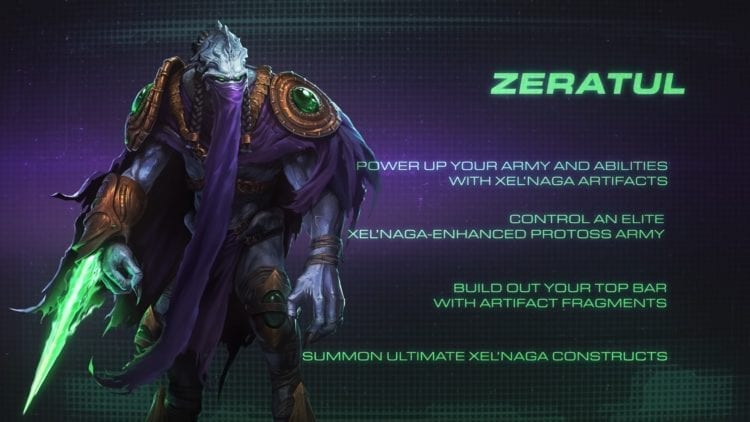 Speak Slowly And Carry A Large Warp Blade
Zeratul has more tricks up his sleeve than just invisibility, blink, and a warp blade. Although, those are some damn fine tricks. As a commander, however, he has more powers and abilities in his arsenal. A "Xenoarchaelogoist," Zeratul can use something called Prophecy Vision, which opens up a small tear in reality that points in the direction of Xel'Naga artifacts. The more of these precious relics you uncover, the more abilities you unlock.
Artifacts, which grant specific enhancements to his warriors, come in two flavors. They can be new abilities, or upgrades for abilities you already possess. Zeratul can have up to four of these abilities selectable via top bar, but you only start with one. To reiterate, finding more artifacts makes Zeratul a much greater commander over time.
Calling in the Legendary Legion is one of Zeratul's abilities that can be improved. The legion is your army, which you can warp into the battle. Led by "notable Protoss warriors," the legion cannot be controlled, only enhanced. By finding artifacts, Zeratul can improve their abilities, and upgrade their shields, weapons, and armor.
Zeratul's most powerful ability is unlocked once all artifacts are claimed. With the relics in tow, you gain control of one of two avatars, which are enormous and powerful Xel'Naga Constructs. The Avatar of Form calls down the thunder, using psionic power to turn enemies to ash. However, the Avatar of Essence can evolve nearby allied units, or de-evolve enemies.
Cloak And Dagger
For more on the latest commander, Blizzard has a wealth of information on its preview page. Zeratul will be available as part of the 4.7.0 patch for StarCraft II: Legacy of the Void.