Many have been waiting with bated breath to finally get their hands on the Resident Evil 2 remake. Capcom recently released a short playable demo for the game, offering a taste of what they can expect when it comes time for the full release. Player stats gathered from those sessions has been compiled into a nice infographic now found on the on the game's official site. It reveals that not that many people actually completed it.
You Completion Me
The official site for Resident Evil 2 will later house stats for the game, including character choices between Leon and Claire. As of right now, it houses information pertaining to the demo since its launch just a few days ago. There have been nearly 2 million participants thus far who have thrown caution to the wind and explored the Raccoon City police station. You might find it surprising that out of those players, only 27 percent actually completed the demo.
By The Numbers
There isn't a clear indication as to how often these global stats will update. Those who have enabled RE Net Play Data in their game settings are the ones contributing to the total. The numbers of completion and participants have changed even since Capcom had published them on its official Facebook page. Another thing to consider is if the hack that has recently been used to alter the game's timer has also had an impact on completion or the number of people who have taken part in the demo. I know for myself, I was able to play it on both the PC and Xbox One.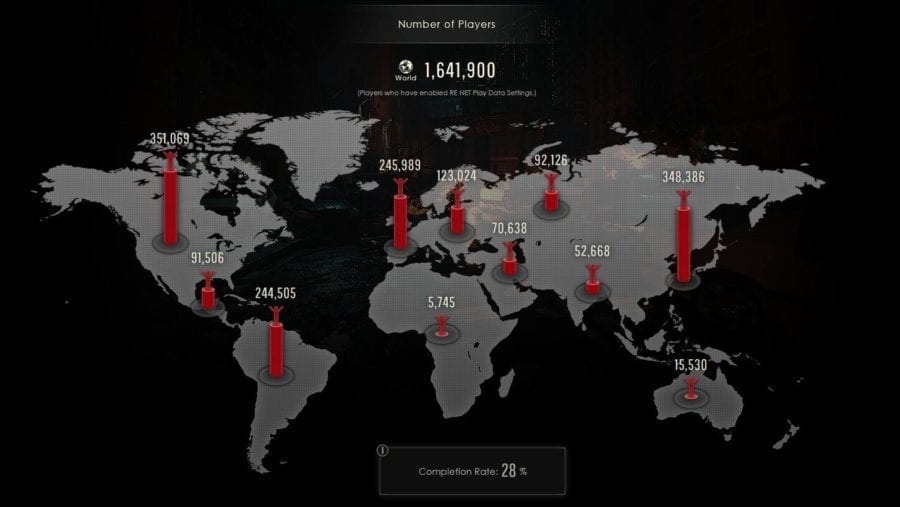 Resident Evil 2 releases on January 25, 2019. The game will come to PC via Steam, Xbox One, and PlayStation 4. It is not known at this time if the game will only find a home on any other recently launched digital distribution platforms. For now, you can preorder various versions of the game here.
For more information on Resident Evil 2, read our thoughts on the 1-Shot Demo.