AMD added to its family of RX 6000 Series GPUs with today's reveal of the Radeon RX 6700 XT. This card, unlike some of the other modern graphics cards revealed by AMD over the course of the past few months, isn't geared towards 4K gamers. Instead, people playing their games at 1440p are the target market this time around.
Based on AMD's presentation, the RX 6700 XT looks like a respectable offering for those who want to have an excellent gaming experience, but aren't interested in paying the price for the highest fidelity possible. Compared to its other family members though, this card does boast some impressive specs. The RX 6700 XT runs at a base clock of 2424 MHz and can boost up to 2581 MHz. Even against the RX 6900 XT, these numbers are impressive, with the more powerful GPU running at a base speed of just 2015 MHz and boosting up to 2250 MHz.
However, faster speeds don't simply equate to higher performance, especially when the 6700 XT comes with certain shortfalls. AMD's latest GPU only sports 12GB of GDDR6 memory, which is 4GB less than the RX 6800, 6800 XT, and 6900 XT. The 6700 XT also sports significantly fewer compute units than its cousins, with a total of just 40.
| | |
| --- | --- |
| Specs | |
| Compute Units | 40 |
| Base Clock | 2424MHz |
| Boost Clock | 2581MHz |
| Memory | 12GB GDDR6 |
| Infinity Cache | 96MB |
| Memory Bus | 192-bit |
| TDP | 230W |
| MSRP | $479 USD |
| Release Date | March 18 |
Leaving this card marginally weaker than the remainder of its family just hammers home the point that it's not built for 4K gaming. Even during the card's reveal, comparisons against other GPUs were made in games running at 1440p with max settings. Specifically, AMD compared its latest card against two of Nvidia's classics — the GTX 1070 Ti 8GB and the RTX 2080 Super 8GB. Naturally, AMD's card blew Nvidia's past offerings out of the water. When stacked against some of Nvidia's other modern offerings though, the card traded blows, but often came out on top. Compared to Nvidia's RTX 3060 Ti 8GB and RTX 3070 8GB, the RX 6700 XT apparently performs better in a majority of titles, save for Watch Dogs: Legion.
There is something to keep in mind here though, and it's that these are AMD's numbers. While AMD isn't flagrantly skewing results to favor its card, and we can't possibly know how the RX 6700 XT actually performs, there are some stark admissions from AMD's benchmarking. Namely, we don't know if, in any of these cases, AMD is utilizing its performance-enhancing software: Rage mode and Smart Access Memory. So keep in mind that while the RX 6700 XT seemingly outperforms many cards it competes against, those results may be influenced by software exclusive to AMD's hardware that boosts framerates. Having some more clarity on the conditions these benchmarks are made in would alleviate any worries about skewed results, but until that happens it's important to note what information isn't present.
The big question: availability
While AMD's RX 6700 XT seems like a great offering, it's certainly not the cheapest one out there. Nvidia's recently-revealed RTX 3060, which has been marketed as both a 1440p and 4K gaming card, has an MSRP of just $329 USD. The Radeon RX 6700 XT, which launches in just a couple of weeks on March 18, will cost customers a whopping $479 USD. That's a higher price than Nvidia's RTX 3060 Ti, which has an MSRP of $399 USD. It's worth noting though that finding either of Nvidia's cards at their MSRP is nearly impossible, either due to AIB pricing or scalpers.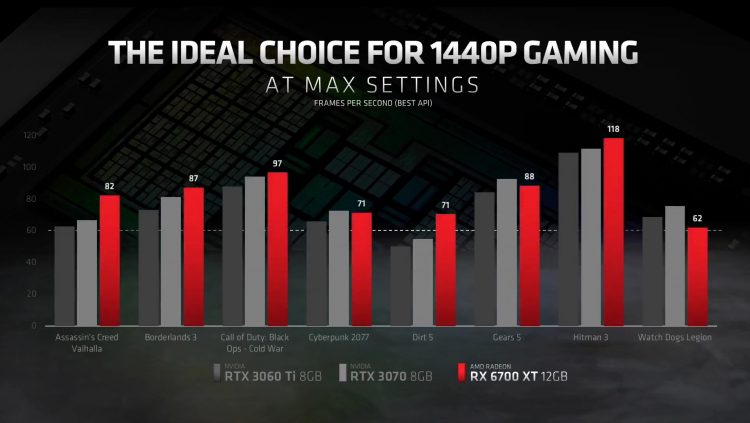 While AMD wants to avoid some of those issues, it's already not looking very likely that customers will be able to find the RX 6700 XT at its MSRP. When the RX 6700 XT launches on March 18, AMD's AIB partners will also make their versions available. This effort to flood the market with various models of the RX 6700 XT will hopefully leave it available to more customers. However, those AIB cards definitely won't run customers just $479 USD. Without any official specs tests outside of AMD's own marketing materials, it will be up to customers to decide if the card's performance will make up for its inevitably jacked-up prices.