Let's get this out of the way: Anno 1800, the latest in the city-building/logistics management sim from Blue Byte and Ubisoft, looks gorgeous. Unfortunately, it can also be a tad demanding. Before we continue with this PC technical review, let's take a look first at Anno 1800's system requirements from the official website.
System Requirements
Minimum – 1080p Low Preset @30 FPS
CPU: Intel i5-2500K – 3.3 Ghz, AMD FX 6350 – 3.9 Ghz
GPU: Nvidia GTX 660 – 2GB, AMD Radeon R7 260X – 2GB
RAM: 8GB
Minimum – 1080p Low Preset @60 FPS
CPU: Intel i5-4460 – 3.2 Ghz, AMD Ryzen3 1200 – 3.1 Ghz
GPU: Nvidia GTX 670 – 2GB, AMD Radeon R9 270X – 2GB
RAM: 8GB
Recommended – 1080p High Preset @30 FPS
CPU: Intel i5-4690K – 3.5 Ghz, AMD Ryzen5 1400 – 3.2 Ghz
GPU: Nvidia GTX 770 – 4GB, AMD Radeon R9 285 – 2GB
RAM: 8GB
Recommended – 1080p High Preset @60 FPS
CPU: Intel i5-4690K – 3.5 Ghz, AMD Ryzen5 1500X – 3.5 Ghz
GPU: Nvidia GTX 970 – 4GB, AMD Radeon R9 290X – 4GB
RAM: 8GB
Author's – 1080p High Preset @60 FPS
CPU: Intel Core i7-7700K @ 4.2 GHz
GPU: Nvidia GeForce GTX 1070 Ti
RAM: 16 GB
My rig is well above the recommended specs to hit 60 FPS with a 1080p display. I should be good to go even for ultra settings, right? Well, not quite.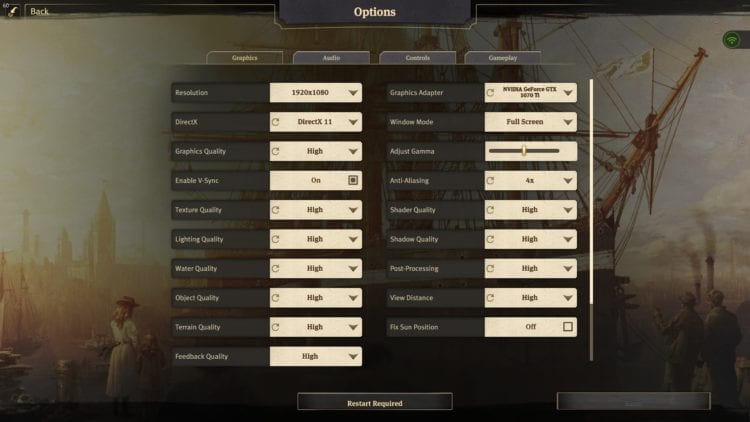 Graphics Settings
You can see the graphics settings for Anno 1800 in the image above. You can change the quality of textures, lighting, terrain, shadows and more. View distance and post-processing effects can also be changed. The game started with the High preset selected, although I can't be sure if it's like this by default or if my specs were automatically detected.
I had almost no problems using the High preset for the first few hours of my playthrough. I was able to achieve 60 FPS for the most part, with minor dips when viewing larger or more populated islands. Massive naval battles, of which there are few, can also cause slight dips.
My only gripe is that I'm above the recommended specs already, and yet switching to the Ultra preset led to performance sinking faster than a pirate clipper going up against a ship-of-the-line. Given the noticeable framerate dips, I decided to tweak a few options. Texture quality, shadow quality, post-processing, anti-aliasing, and view distance seem to be the main culprits. Feedback quality, which determines the number of roaming villagers/townsfolk in your settlements, might be of note especially if you experience slowdowns when zoomed in.
Anno 1800 can be quite demanding, to the point that you'd start to wonder if it's optimized for maxed-out settings. Again, I'm on a 1080p display, and the Ultra preset leads to 30-40 FPS. I can't say for certain how you'd fare if you attempt to make some tweaks for a 4K display using the Ultra preset.
Graphics Comparisons
Below are several in-game screenshots to compare and contrast the Low and Ultra presets. You might notice the FPS counter at the upper left corner of the images. Do note that changes to some options would require a restart so I tried my best to come up with comparable angles.
This is a bird's-eye view of Bright Sands island in Anno 1800's campaign:
This one is an estate overlooking the cliffside. Notice the additional details for the terrain and building for the Ultra preset.
This last one focuses on ship and water textures. Since you're going to be surrounded by the open sea, you'll love that water textures in this game look spectacularly rendered and almost photorealistic.
Control Settings
You can change and assign keybinds for various menus and actions. Naturally, I just switched the camera movement to the WASD keys for added comfort. I could say that controls are quite responsive, and the only downsides for this facet would be the actual gameplay mechanics related to controls. We'll tackle these issues in our official review.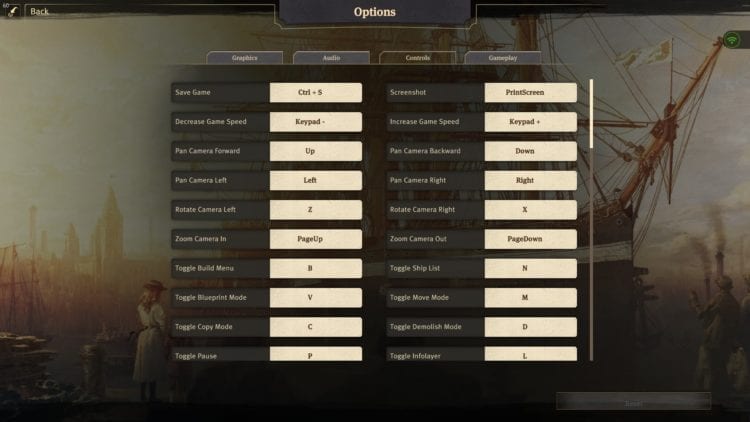 Gameplay Settings
The gameplay options are all about the city-building aspect. You'll be constructing numerous structures on your islands in Anno 1800, and thus you'll want a system that's clean and intuitive.
The "auto blueprint" setting lets you plop down a building's outline even if you lack construction materials, perfect when you're planning ahead. Meanwhile, the "upgrade info overlay" setting displays an arrow above certain buildings when they're ready to be upgraded, say, a farmer's hut to a worker's residence. Lastly, the "production chain highlights" option is something you ought to keep enabled. It marks structures related to a particular manufacturing chain you're focusing on which is perfect once you unlock more complex structures.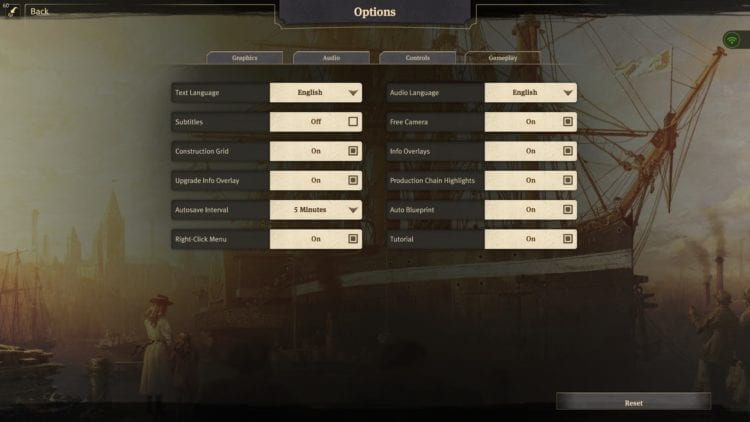 Audio Settings
You've got the usual volume settings for this part. The options are your standard fare in a number of strategy games so there are no qualms here. The downside is that there doesn't seem to be an option to disable notifications/pop-ups from NPCs. There's nothing in any of the panels. As for why this option would be necessary, well, imagine hearing the same NPCs talking to you incessantly while you're playing. I'll go into detail in the official review.
Clear Or Choppy Waters?
From a technical standpoint, Anno 1800 does what it sets out to do and that's giving you a few options to tweak so you can fine-tune your experience. The audio is impeccable, giving you hours of relaxation broken only by short bursts of action and tension, be it naval battles or random mishaps. Controls are your standard affair for most strategy games, with flaws related mostly to game mechanics. Noticeably absent are accessibility options, or even a means to increase the sizes of icons, tooltips, text, or even the UI in general.
As for the graphics, well, Anno 1800 is visually stunning and a marvel to behold. You'll see your towns and port cities bustling with lively energy, while majestic mountains and lush forests dot the hinterlands. The waters are peaceful and serene, rendered in vivid detail. The downside is that you might encounter a number of performance hits, so much so that you might end up lowering your settings even though you're well above the recommended specs.
If you can get past these shortcomings, then it's time to check out our official review of Anno 1800. We'll combine impressions regarding its graphics, controls, and performance, and how well everything meshes together with game mechanics, UI systems, and everything in between.