Think back to what you know of Just Cause. Do you think about a time when you took calm, leisurely drives along the coast? Or, perhaps, a relaxing stroll through a suburban marketplace? Hell no. It's all about the tear-jerking explosions and dropping tanks from the sky. Which, usually, ends in more tear-jerking explosions. In the latest trailer for Just Cause 4, we watch a comical live-action scene play out as battered members of The Black Hand tell the tale of a one-man assault against a base. Also, there was something about a tornado.
The trailer asks a question which must pass the lips of every enemy NPC: "One man did all this?" Indeed, Rico Rodriguez is a master of the destructive arts. In the trailer, a group of Black Hand soldiers gushes over him like an awe-inspiring god of destruction. He comes down from the sky in a tank, before blowing up nearly everything in god damn sight. If anything, Rico sure is a fan of those red barrels.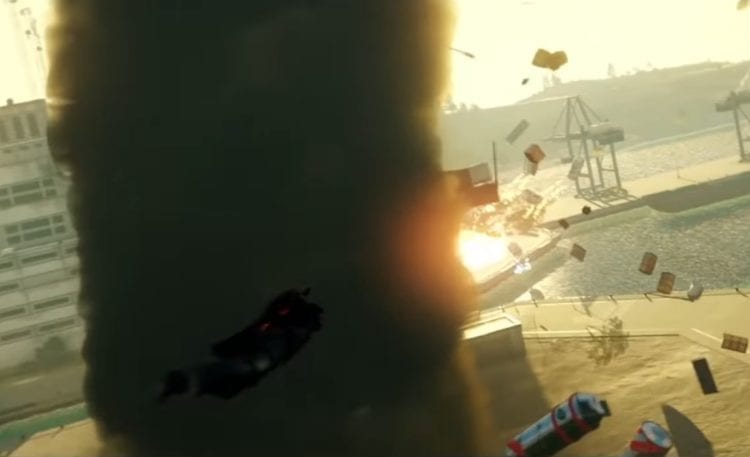 …And Then There Was A Tornado
Of course, there was also that tornado. Just Cause 4 doesn't have just one source of chaos. Natural disasters such as tornadoes and other examples of extreme weather also populate the world. In the trailer, we watch as enormous ships are picked up like bathtub toys and tossed around, wreaking even more havoc to buildings and enemies. There are four biomes in Just Cause 4. They include desert, alpine, rainforest, and grasslands. Each one will come with its own unique weather event of which to take advantage.
Beyond weather, Just Cause 4 still includes Rico's famous arsenal. There are guns, obviously, and loads of them. However, Rico also still uses a grappling gun, though it's seen a bit of an upgrade. Other than allowing you to zip across a battlefield, you can use it to tie enemies up to a balloon and send them soaring. One of the poor bastards in the trailer got a first-hand look at the balloon in action.
Just Cause 4 lands on PC on December 4.