Well, it looks like Blizzard was expecting negative reactions due to their Diablo: Immortal announcement. Unfortunately, they certainly did not expect it'd be to the same degree as we've seen so far on the internet. Gamers have taken to lambast the developers for their decision to release a mobile-only Diablo game made in partnership with NetEase. Angry and vocal players said it was disrespectful to their fanbase and akin to "killing the franchise" completely. Blizzard's video announcements and trailers have been bombarded with dislikes. Likewise, their player base is in full revolt in the official forum, subreddits, and social media.
Blizzard representatives were quick to respond to these criticisms but we doubt they'd do any good. The internet mob is already roused, after all. Recent allegations of removing negative comments from YouTube videos or reposting said videos in their Battle.net launcher didn't help matters. Additionally, criticisms of Diablo: Immortal looking like a reskin of NetEase's Endless of God mobile game has players upset. Here are a couple of videos showcasing their respective gameplay:
Blizzard Responds
In a recent interview with IGN, Diablo's senior game designer, Wyatt Cheng noted that they did not want "mobile to be a dirty word" and that the opportunity and technology were there to partner with NetEase to make a Diablo mobile game. Cheng also answered questions about the reskin fiasco by saying that Blizzard and NetEase have their teams working together to create Diablo: Immortal's "environments, characters, skills, and story."
Meanwhile, Blizzard's co-founder Allan Adham spoke with Kotaku about fan backlash. Adham noted that Blizzard was aware of how the fanbase tends to react. He enumerated past incidents when fans took to social media to vent. One case was when Diablo III was released for consoles; another when Hearthstone was announced for mobiles. We do wonder why he forgot to mention the outrage due to Diablo III's "more colorful" artistic design (remember that?), but that's neither here nor there.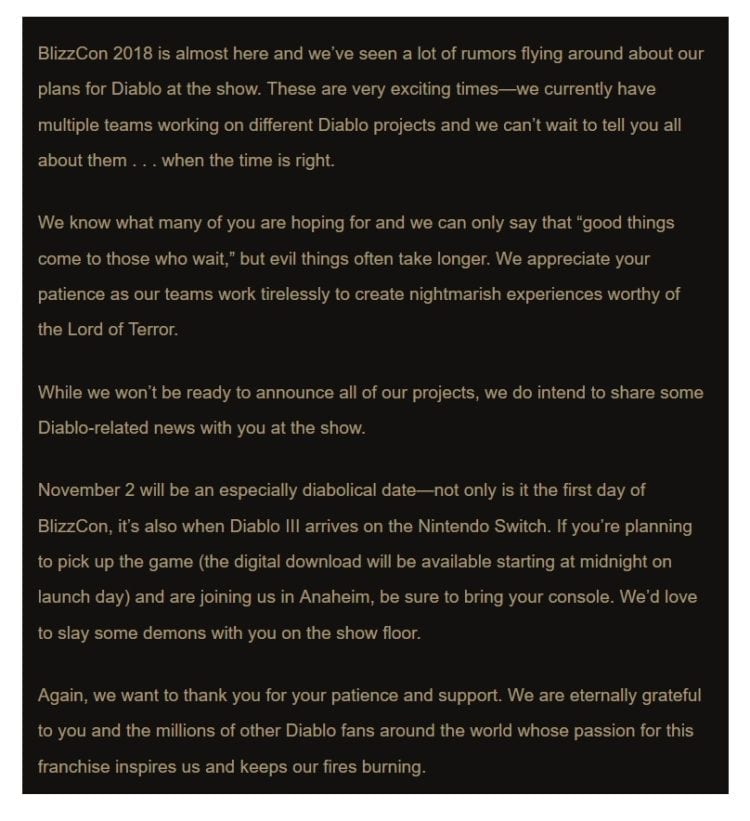 "We Told You So"
Adham also noted that the team tried to temper expectations in an October blog (seen above). Based on interpretations, it was easy to see that the next major Diablo game (on PCs, of course) wouldn't be announced yet during BlizzCon 2018. Adham said:
"At Blizzard, we don't announce things until we're ready. It's all about game quality, less about timing, all about delivering an overwhelming experience to our players. We tried to get ahead of that a little bit with the blog post to let that group know that we are working on multiple things and continue to work on multiple things. But it's pretty clear that their incredible passion for Diablo manifests in interesting ways."
I don't know about you, but that seems like a euphemism for: "Ah, it's the internet being the internet again." As with the case of anything these days, that rapid-fire information leads to sudden reactions; in turn, we might forget certain important details.
What do our readers think? Were the reactions of hardcore PC fans to Diablo: Immortal warranted? Or was this just another by-product of knee-jerk online outrage?