The Top Break pistol is resonant of the Magnum in previous Call of Duty titles. With the best attachments, you can build a viable Top Break class to take into your next Call of Duty: Vanguard multiplayer match.
The Top Break is not the most powerful weapon in that is in the pistol category, but that does not stop it from being fun to use. You can pair the gun with any primary weapon of your choice. Mainly, this class will focus on increasing the fire power of the gun, so you can eradicate an enemy in in just a few bullets. In addition, accuracy will be taken into account, so you can make the most of the firepower.
Call of Duty: Vanguard Top Break class
Muzzle: F8 Stabilizer
Barrel: Wilkie W-4 Stub
Trigger Action: Rapid Action
Magazine: .30 Russian Short
Ammo Type: Lengthened
Rear Grip: Stippled Grip
Kit: Quick
Proficiency: Akimbo
The first attachment you should equip to get your class off to a strong start is the F8 Stabilizer Muzzle. This will boost your effective damage range and accuracy in terms of horizontal recoil control. Pairing this with the Wilkie W-4 Stub Barrel will continue to boost your damage range, while increasing bullet penetration and bullet velocity. As for the Rapid Action trigger, this will see you gain a faster fire rate, so quickly taking down enemies will not be a problem.
Load your pistol with deadly bullets
Upon navigating to the Magazine category, you will see that there are just two options to choose from. This class uses the .30 Russian Short Magazine for increased bullet velocity, range, bullet penetration, and damage. Then, applying the Lengthened Ammo Type will allow you to experience 30% more bullet velocity. Ultimately, this will maximize your fire power to make sure your bullets are as hard hitting as possible.
In terms of a Rear Grip, the Stippled Grip is a viable option as it improves your recoil recovery and initial accuracy and recoil. Then, the Quick Kit will make up for some lost speed by providing your pistol with added sprint speed. Running around the map with a pistol is much faster than when you are running with a primary weapon. Therefore, the strong amount of speed that this gun wields can help you outmaneuver your enemy, or escape a difficult situation.
Finally, completing your Vanguard Top Break class will see you equip the Akimbo Proficiency. This results in you carrying two of these hard-hitting pistols, rather than one. Notably, you do not need to use an Optic on this class. The Akimbo option prevents you from aiming down sight, so you will no gain any benefits from applying one.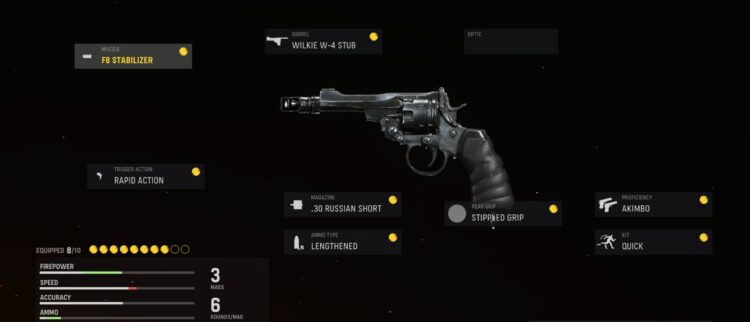 ---
The launch of Call of Duty: Vanguard took fans back in time to World War II. The title introduced a new campaign, multiplayer maps, modes, and a new zombies experience. Most recently, the Secrets of the Pacific limited-time event rolled out. By participating, you can unlock cosmetics and learn about the upcoming Caldera map in Warzone.