There are varying degrees of opinions when it comes to the "games as a service" model. For starters, gone are the days when a new title would release and the developer would simply wipe their hands of it. Now, when a game launches, the goal is often to support it for the months following launch, if not years. Children of Morta might find itself in the ranks of indie development, however, its content roadmap for 2020 mimics that of ongoing gaming models with its recently announced content plans for 2020.
Sign of things to come
For starters, the majority of the Children of Morta content will be free of charge when it launches. Only the Uncharted Lands expansion will be a paid exception to the new content launching in 2020. Outside of that, the team at 11 bit studios has outlined everything that you can expect from the upcoming content updates.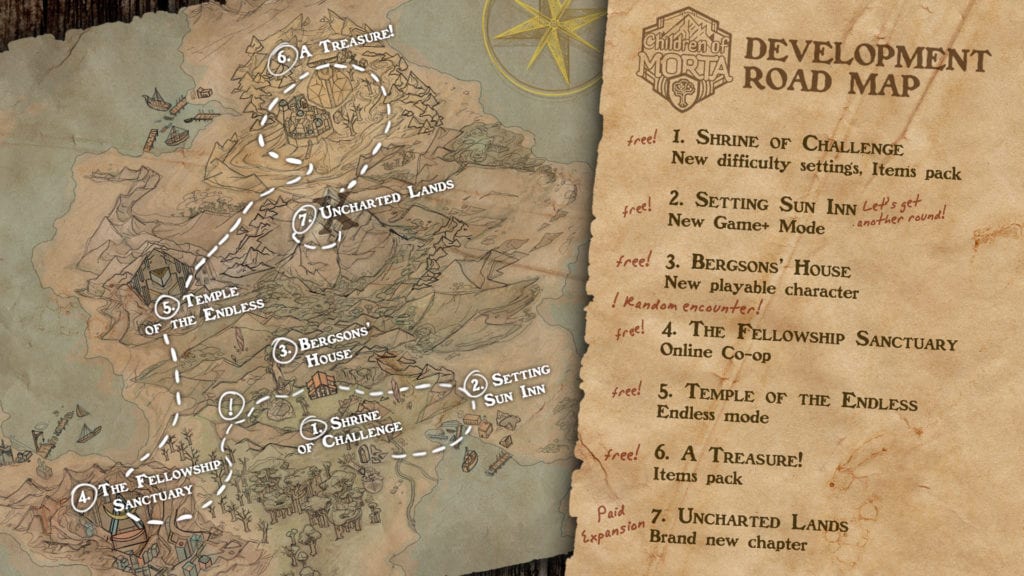 A few highlights from the literal content map include things like new playable characters, additional skill tree options, and online co-op. Other updates for the first leg of the update include 20 new items, such as Charms and Divine Graces. As previously mentioned, the Uncharted Lands DLC will be the paid content update in the foreseeable future. However, the content found within the road map will lead up to its release, promising that "all this should prepare you for The Uncharted Lands (VII)."
Need Morta?
If the new roadmap didn't provide you the Children of Morta fix you were searching for, then you might enjoy that the official soundtrack of the game will be making its way to listening platforms, such as YouTube and  Spotify, composed by Hamidreza Ansari.
Children of Morta is currently available for purchase. If you are unfamiliar with the action-RPG that houses roguelike elements, you can check out the full review from PC Invasion. It received an "8/10" from staff writer, Tim.