This week's Content Drop (August 5 to 11) will finally see the arrival of a hotly anticipated cult classic: Metal Wolf Chaos XD. Oh, that's an "XD" but there's also a "DX" — not the wrestling faction but a space shooter called Subdivision Infinity DX. Other PC game releases this week include Age of Wonders: Planetfall, Gibbous: A Cthulhu Adventure, Total War: Three Kingdoms – Eight Princes, and more.
For the other games that'll be coming out this August 2019, check out the monthly listing here. As for the rest of the games launching this year and beyond, you can view our updated release dates list.
Metal Wolf Chaos XD
That "XD" in Metal Wolf Chaos XD might as well be the wide grins from the fans of the cult classic or FromSoftware in general. Heck, maybe those grins are from some curious onlookers as well.
Metal Wolf Chaos XD started out as an odd partnership between pre-Souls FromSoftware and Microsoft. Back in the early 2000s, Microsoft needed a push to help their Xbox console which was lagging behind in Japan. FromSoftware, already veterans when it came to mech games such as the Armored Core series (and we Asians love our mechs), decided to create Metal Wolf Chaos.
Although it didn't necessarily change the world for the Xbox's reception in Asia, it still became a cult classic. Why? Well, partly it was because of the over-the-top mech action, and partly because of its over-the-top themes of American patriotism. Why, it's got a president piloting a mech fighting a rebellious vice president, after all.
Metal Wolf Chaos XD's official release is on the horizon. It will feature visual upgrades and increased resolution support. It's time to see if nostalgia and hype would be enough to turn FromSoftware's Metal Wolf Chaos XD into a hit for new audiences, or if it's just a passing interest that's lost its unique charm.
Age of Wonders: Planetfall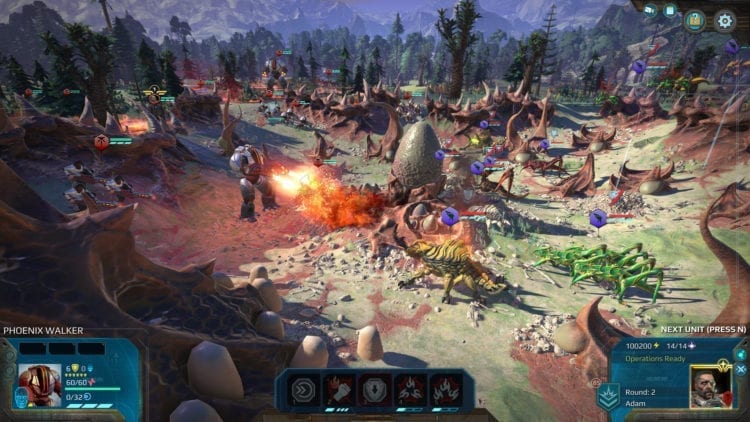 Triumph Studios, makers of the Age of Wonders and Overlord games, teamed up with strategy masters Paradox Interactive. This week, we'll see how that partnership has come to fruition with Age of Wonders: Planetfall.
Eschewing the past themes of high fantasy and magic, Age of Wonders: Planetfall gets a shiny new coat of paint, all in futuristic sci-fi. You'll be able to play as six major spacefaring factions/races, each with their unique capabilities, heroes, perks, and units.
The objective is to build your colony and slowly annex sectors, expanding throughout a brand new world with various biomes, landmarks, and anomalies. You'll encounter a slew of AI races, some hostile and some neutral. You'll be able to do quests for the denizens that you meet to befriend them. Otherwise, you can simply exterminate them at will.
Age of Wonders: Planetfall has the traditional overworld map that you'll find in other 4X strategy games such as the Civilization series. However, when you engage other armies, the game shifts into a tactical battle map with turn-based combat similar to X-COM. You can check out our review and guides hub for Age of Wonders: Planetfall later in the day.
Subdivision Infinity DX
PC players have always been on the lookout for great space shooters. The vast unknown of the galaxy, coupled with futuristic and technological marvels, and the tight and frantic dogfights? You can't go wrong with this combo, right? Well, that's what Subdivision Infinity DX hopes it can achieve — a combination of gameplay mechanics, visuals, and the craving of the fans of the genre that could lead to success.
The game was originally released for mobile devices a couple of years ago. Since then, it has undergone some revamps, tweaks, and upgrades for consoles and PCs. The new Subdivision Infinity DX will be launching later this week, and you can also expect our review shortly. Hey, who would've thunk it? Two remastered games in the same week — one with "XD" (Metal Wolf Chaos XD) and the other with "DX?"
Total War: Three Kingdoms – Eight Princes
China had been ravaged after the fall of the Han Dynasty and the wars between warlords. Even though the Jin had unified the land after the collapse of the Three Kingdoms of Wei, Shu, and Wu, peace would not last for long.
In Total War: Three Kingdoms – Eight Princes, you'll start just a few years after the unification of the land under Sima Yan of the Jin Dynasty. What could've been generations of glorious and prosperous reigns were shattered by the War of the Eight Princes. These eight men — members of the Sima clan — vied for power at a time when the Jin ruler was easily manipulated and the machinations of others misled them to their doom.
The Total War: Three Kingdoms – Eight Princes DLC will let you play as these eight historical figures, each with their own unique strengths and units. Some units that you'll field are heavily-armored owing to certain advancements in military doctrine. You'll also have to manage the support of the nobles to see if they can be rallied to your cause.
Total War: Three Kingdoms – Eight Princes' release date will also introduce "Dynasty Mode" for the game. This new mode is free for all players, allowing you to pick three heroes to survive against overwhelming odds.
More Content Drops this week
Silver Chains (August 6) – A spooky first-person horror game inspired by Layers of Fear, Outlast, Resident Evil, and Silent Hill. You can find it on Steam.
Gibbous: A Cthulhu Adventure (August 7) – An artistic point-and-click story where you try to cure your cursed talking cat whilst exploring Transylvania and uncovering the mysteries related to Cthulhu. You can find it on Steam.
The Forbidden Arts (August 7) – An action-adventure platformer game where you play as a young boy who wields fire magic. Currently, the game is on Steam early access, but it'll officially launch this week.
Next Week
Next week's Content Drop feature includes Rebel Galaxy Outlaw, Ion Fury, and Senran Kagura Peach Ball. We'll see you then.
---
Note: All release dates are for North America.