Cooking Simulator is already a game rich with features and options, but it didn't have baking… until now! With the release of its newest DLC, Cakes and Cookies, that is no longer the case. This new content adds a large number of new features and recipes, so the question stands: is it worth it?
Get a new career
Cakes and Cookies doesn't jam itself into the main game, and instead takes the form of all-new career mode. You'll need to start a new game separate from your currently existing restaurant to get in. Not only is this its own mode, but it has a markedly different pace and structure compared to the base game — where you waited for orders in a restaurant. That wouldn't work for a bakery, so things are much more leisurely this time around.
Each day begins at 10 AM and you're purely left up to your own devices. The only real guidance you're given is a set of daily hashtags that you can see on an Instagram-style app on your smartphone. These hashtags describe various properties of the products and their ingredients, such as if the food is fatty or buttery or what have you. The only way you have of selling goods is to place them in your showcase. Mousing over a completed product will show you which hashtags apply to it and you'll be more likely to sell that product at the end of the day.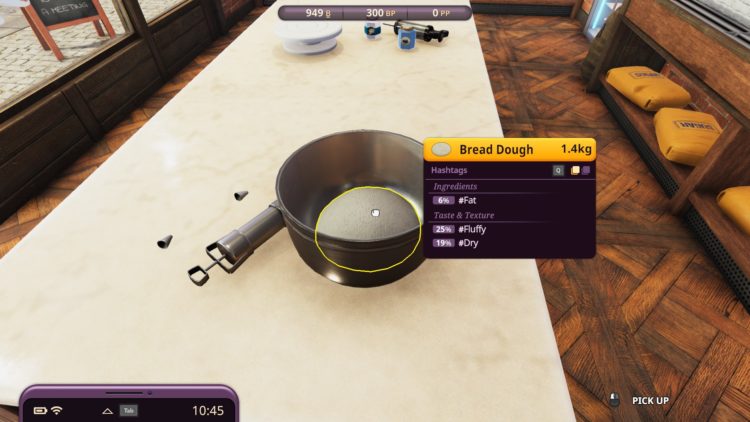 At 6 PM, your shop closes and you're treated to a view of your showcase as your baked goods are sold. You learn how your customers feel about these goods with reactions based on Facebook's; thumbs up, surprised face, smiley face, angry face — they're all there. No care react, though. Don't @ me. You don't want an angry face, naturally. That means you screwed up. Selling goods gets you additional baking points and perk points that you can use to unlock recipes, ingredients, and utensils or unlock perks. You also get money, which you spend whenever you grab ingredients.
Ready, set, bake!
As Cakes and Cookies sees you running a bakery, you're going to mostly be putting ingredients in a bowl and mixing them. Multiple dispensers can be used for flour, sugar, and the like, plus other types of dispensers for frosting and toppings. The flour and sugar dispensers are very fast if you put your mixing bowl straight under them. You'll want to use measuring cups and then transfer the contents into the bowl if your reflexes are slower and you want more exact measurements.
Items are mixed with one of three different attachments that can be connected to a mixer. You access recipes via your smartphone and these can be pulled up at any time by pressing the tab key. Most doughs require you to mix things in stages before transferring the finished product into baking pans. Mousing over each pan tells you how long its contents need to bake and at what temperature. Then you just get them out of the oven and either transfer them directly to the showcase from the pan or take them over to the decoration area.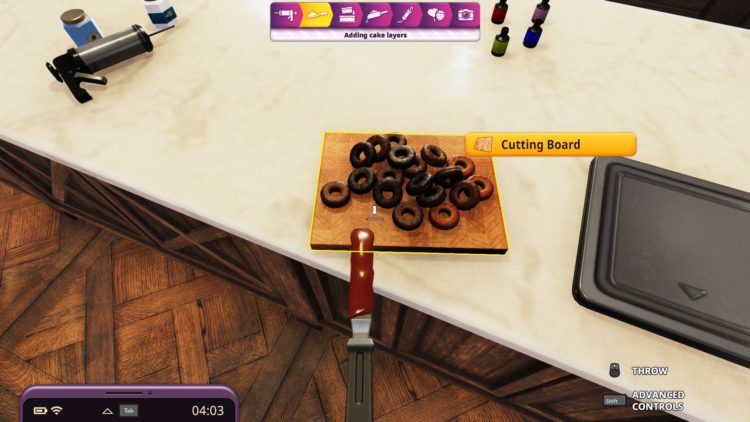 Putting frosting or icing on any product requires approaching the station with a confectionery spatula, which will give you a single-use dollop of icing to spread onto your goods. All doughs can be placed in a variety of pan shapes and sizes, plus you can make multiple tiers of cakes. Figurines can also be added, which allows for a fair amount of variety in terms of what you're selling.
A hard day's bake
Making cakes and cookies in Cakes and Cookies works well and is generally pleasant once you get a feel for the new mechanics. I will say, though, that the cookie pans are a bit too deep and the cookies come out pretty thick. I made chocolate chip cookies, but the game doesn't appear to have chocolate chips, just chocolate curls, so my cookies didn't end up looking like I was expecting them to.
There are other products that you can make as well. You make doughnuts by prepping the dough and then placing it in a special device that squeezes the dough out in doughnuts into your deep fryer. Each basket is long and can hold a bunch of doughnuts. You just fill the fryer with oil, lower the doughnuts, and fry them up. But doughnuts seem ill-considered compared to the other things you make. Cakes and Cookies doesn't appear to tell you how long to fry them and it's difficult to gauge how long to leave them in, especially when you've got three batches going at once.
Complicating this is the fact that I couldn't find a way to transfer a batch of donuts. They each have to be picked up individually. You can put them all on a cutting board and carry them where they need to go, though. But putting icing or glaze on doughnuts can only be done one-by-one. You'll need to carry your cutting board or plate full of doughnuts over to the decoration section and then put glaze on a confectionery spatula for each individual doughnut. The doughnuts also need to be put up for sale individually.
All of this makes them much more cumbersome than dealing with the other baked goods, which I'd like to see streamlined. Of course, I might just be missing something.
A sweet time
Other than the doughnut issues, I'm enjoying Cakes and Cookies. This DLC offers an experience that is very much what you'd want out of a game about baking. I like the more relaxed approach, plus I'm looking forward to ignoring recipes altogether and just making whatever I want. Unfortunately, the sandbox mode isn't ready to go on day one and is supposed to be showing up soon. But the available mode is already relaxed enough that people who typically play sandbox probably won't mind as much.
Cakes and Cookies retails for about $12 USD and is on sale for $9.59 for now. If you enjoy Cooking Simulator and the idea of baking sounds good to you, then this DLC is very much worth it. Reviews are currently mostly positive on Steam, but Big Cheese Studio has already shown that it'll do what it takes to make their customers happy, so I have little doubt that the sandbox mode and any fixes to content or clarity will be fresh out of the oven.