We are privy to some mighty fine demon slaying today, folks. Yesterday during the Tokyo Game Show, Capcom dropped a gameplay trailer and new info on the hotly anticipated Devil May Cry 5.
In the trailer below, we see our old friend Dante doing what he does best: sitting on his ass. After a phone call and a job offering money up front, however, he gets right back to the other activity he enjoys. That's right – slaying the holy hell out of demons to the scream of cheesy rock music. Oh yes, this must feel like home to Devil May Cry fans.
Dante isn't alone, however. Along with Nero, they are joined by a mysterious new protagonist, known only as V.
There's a lot to take from this trailer. Dante is still rocking the red coat and his signature weapons, Ebony & Ivory. But he is getting some more bang for his buck – or should I say, buckshot (heh). The Coyote-A is a powerful new shotgun that delivers a hot slap to the face of demons who are getting a little too friendly. We also get a demonstration of the Balrog, a pair of grieves and gauntlet that offer a punch or kicking stance.
Dante's Devil Trigger transformation also makes a return. We first saw this demonic form back in Devil May Cry 2. Letting out the demon, we watch Dante as he rips through hordes of underworld monstrosities. Hell, you could almost feel bad for them.
Group project
Nero from Devil May Cry 4 makes up the second part of the deadly trio. He's looking a little different, sporting a dark jacket and closely cropped hair. In the trailer, we watch as he uses his prosthetic arm, the Devil Breaker, to blast demons and swing them around via grappling hook.
A new playable character is also shown for the first time. V, who sports a black vest which is not the least bit lame, is seen only briefly. We'll have to wait to find out just what this new hunter brings to the table.
Cross marketing
Nero's new Devil Breakers are demonstrated in the trailer, but one such weapon certainly stood out from the others. In Devil May Cry 5, Nero can equip Mega Man's iconic Mega Buster. After all, this is a Capcom game. However, you can't just purchase the Blue Bomber's classic weapon… at least, not with in-game currency.
The Mega Buster comes part of the Devil May Cry 5 Deluxe Edition. This version of the game offers a plethora of digital goodies. For Nero, he receives four Devil Breaker weapons, including the Mega Buster and a, ahem, fork attachment called the Pasta Breaker.
In all, the Deluxe Edition includes:
Upgraded motorcycle weapon for Dante
Alternative style rank and title screen announcers
12 classic battle themes
Behind-the-scenes pre-viz live-action cutscenes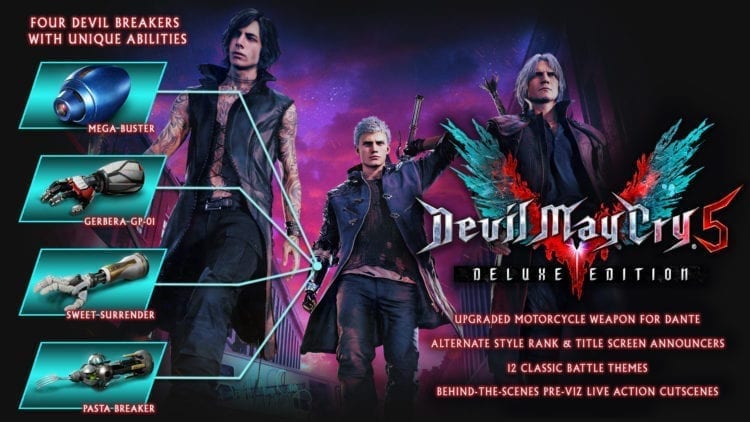 Pre-ordering the game nets you alternate EX colors. The new looks are available to the ladies of Devil May Cry 5 — Trish, Lady, and Nico — and for Dante and Nero.
Devil May Cry 5 releases for PC on March 8, 2019. For more on the game, check out the official page.