We liked our time playing the early access release of Don't Die, Minerva! The twin-stick shooter with a love of stuffed animal protectors was an enjoyably spooky romp. However, it was lacking a bit of meat, and what was there only seemed to attract bugs — the glitchy kind, mind you. But that doesn't mean developer Xaviant was going to rest on its haunches. Earlier today, Xaviant revealed a content roadmap for Minerva, showcasing improvements, fixes, and some new abilities.
Granted, bugs are going to be prevalent in early access games — but Xaviant is bringing the spray. The roadmap, however, didn't name any particularly nasty beasts. But the developer is promising that a full patch to address issues is coming soon. How soon? Well, apparently the fixes are coming in a patch next week.
The highlights of the roadmap lie with the new features and improvements. Minverva's procedurally generated levels are going to become more varied. The developer notes that its goal is to create something akin to biomes, making each floor of the creepy mansion feel unique.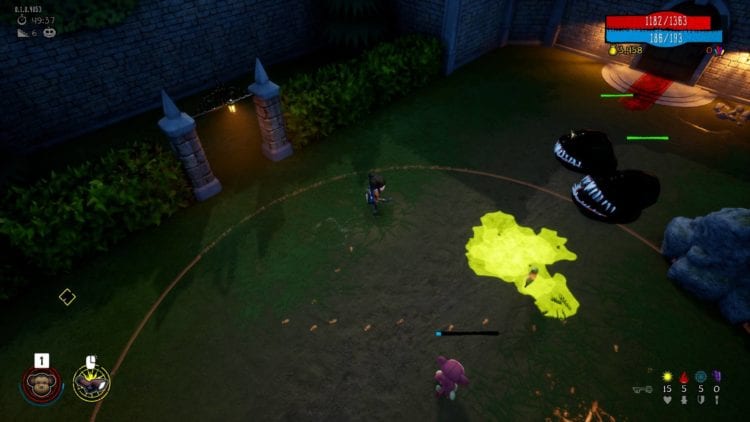 However, the mansion isn't the only thing that's changing. Two enemies, namely the Spread Ghost and Sprinkler Ghost, have been replaced. The Spread Ghost is now the Hollowed, "a wicked pumpkin with a ravenous appetite," and the Sprinkler has become the Headmaster, "an amalgam of nasty spirits that roams the dungeon spitting projectiles."
Minerva will also see improvements with other facets. Enemies are going to become more varied with improved behavior AI. There will also be a better loot system in place, offering legendary items that "impart new effects, attacks, and abilities." Check out the whole roadmap below:

Don't forget your stuff, Minerva!
New features such as charms and curses are also on the way, according to the roadmap. The former sounds much better than the latter, though. Charms, obviously, are better. In Minerva, they'll offer you temporary or permanent buffs (like crit chance). On the opposite end are the curses, but they aren't exactly nerfs. Instead, when you're cursed you have to complete a particular objective or else. I don't know what that else means, but the developer writes that they can reduce stats or paralyze a weapon until the curse is gone or lifted.
Thankfully, our dear Minerva will gain more goodies than curses. New abilities that combine with the Flashlight are designed to improve combat overall. Fragments, when found, can lead you to new loot. Speaking of stuff, Minerva will get even more, such as Flashlights and allies.
Don't Die, Minerva! is in Steam Early Access right now. Be sure to check out our preview before diving into the dark corners of its spooky mansion.