We met all the new Heroes and Alliances joining the roster in Dota Underlords The Big Update in Part One, Two, and Three. In the previous reveal, Part Four, we learned about the new Jail mechanic. In Part Five of The Big Update, Valve provided information on the two new modes coming to Dota Underlords: Duos and Freestyle Mode.
These days, we usually see a game's community begging for specific updates and innovations a fair bit before the developer gets around to them and eventually adds them to the game. Games live and die on the support of gaming communities. If you don't give your community what they want, you don't live very long.
With Dota Underlords, Valve isn't just thinking about what the community wants, though. They're also thinking about ways to keep the game fresh and exciting, beyond just introducing new Heroes and Alliances.
Party time
In the new Dota Underlords Duos Mode, you'll team up with a "partner in crime" to do battle against seven other gangs. You and your partner will live and die together, sharing health and levels. But, you'll also be able to assist each other by sending gold and Heroes to help your teammate.
If they need a specific Hero to complete an Alliance and you have it, you've got their back. If they've gone deep into the Knight Alliance and you've got Sven, the Ace of Knights, send him on over and watch your partner decimate your enemies.
You're in it together, but you'll battle as an individual against one person from the other Duo. Round damage will be added up from both your fight and your partner's. So, it's in both your interest to ensure you're each as strong as possible. If one of you shows weakness, you're both going down.
Try and try again
Freestyle Mode is not a no-holds-barred battle to the death where anything goes. It's the Dota Underlords version of a test mode. You'll have complete control of the board. Use it to test team compositions in any scenario you can think of.
Once you've come up with the smartest, most innovative secret strategies, you can give them away for free to your friends and community with a click of a single button. Friends? You have no friends in Dota Underlords. Only enemies that need to be put in the ground. Rule number one of being a successful underlord: never give away your secrets.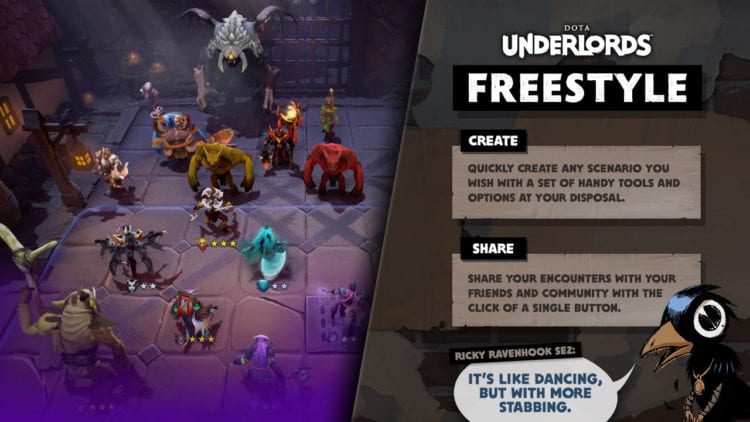 You can download Dota Underlords for free on Steam. This you can tell your friends and enemies about.