Space-faring MMO game EVE Online and its developer CCP are constantly evolving, both growing across over two decades of operation. But 2018 was an especially significant year for the Icelandic developer. South Korean publisher Pearl Abyss, best known for creating its own MMO Black Desert Online, acquired them that year.
"We've gone through a lot of changes, but that's kind of what we do," said CCP CEO, Hilmar Pétursson, speaking to PC Invasion. He explained that financial investors had owned the majority of CCP for almost the entirety of its history. However, even with long-term investors who have supported the company for over a decade, the ultimate goal for these backers is to eventually sell off their shares. That kept CCP limited to short-term planning for its games.
The Pearl Abyss Acquisition
That's why CCP decided it was time for a change. To that end, CCP spoke to a number of potential acquirers, and Pearl Abyss stood out due to its passion and commitment to MMOs. The acquisition was announced in September and formally closed a month later.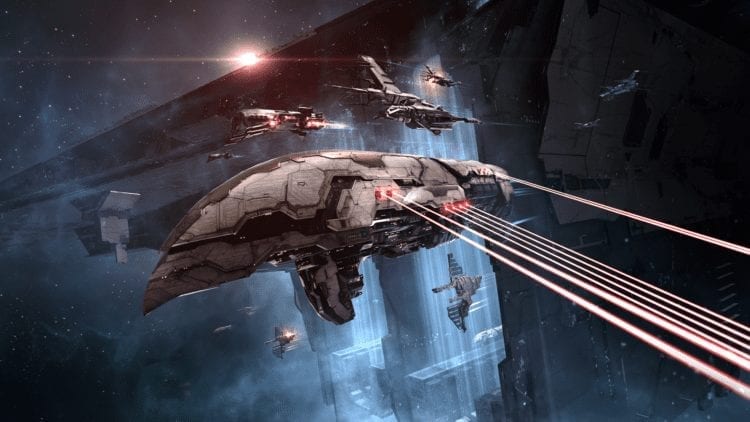 Pearl Abyss' Korean roots also played a role, as Pétursson explained that worldwide gaming trends often begin there.
"You can look at free-to-play, esports, and games as services as examples," he said. "They start in Korea, then we have them in the West five years later and think we invented it."
CCP continues to operate independently from its Reykjavik headquarters, except now it can set its sights on more long-term goals. Although some naturally voiced concerns about this change, Pétursson is confident that fans will be happy with the results.
"As I say to everyone involved, the truth is in the pudding," Pétursson continued. "It matters much more what we do than any theory about what's going to change. I hope that, as we move through 2019, we will be able to communicate more about what this relationship unlocks for us and what we'll deliver to our player base."
One of the first steps in its long-term plans includes expanding EVE Fanfest to global proportions.
EVE Fanfest Goes Global
EVE Online has one of the most player-centric communities in the world. There's even a democratically elected group called The Council of Stellar Management, which advises on the game's development with players' interests in mind. This partnership is celebrated at the EVE Fanfest convention, where players from around the world visit Reykjavik to meet developers and learn more about CCP's plans for its games.
But fans won't need to fly to Iceland this year, as the company bringing its convention to players with its first EVE Online World Tour. Starting with Amsterdam in March, returning to Las Vegas in October, and concluding with London in November, the convention will come to eight cities around the world.
One of those stops includes Kaimonsaari, Finland, where CCP is bringing the party to the lucky(?) winner of Fanfest Home. In September, the developer hosted a video contest where fans made a case for why their houses would be the ideal place to host a Fanfest.
Although this event will be significantly scaled down, it promises to be a "proper" Fanfest, complete with CCP developers, a keynote, swag, a Permaband concert, and more. They aren't selling tickets to this event, so it's more of a private Fanfest, but they will livestream it all.
"Who does not want to see a bunch of Icelanders go to Finland to talk about spaceship games at the home of an EVE player, live on the internet? I think that's a recipe for disaster," Pétursson joked.
#FanfestHOME will bring a real, home-sized Fanfest to a player's house in 2019! A video contest will help us decide where we go! Check out the dev blog for details and rules 🙂 https://t.co/lAtNmGeaR5

Send us your videos #Tweetfleet pic.twitter.com/TQv19lvQGg

— EVE Online (@EveOnline) September 14, 2018
Trading VR For PC And Mobile Gaming
Although CCP isn't beholden to financial investors anymore, its future plans still won't include virtual reality. Despite being a major supporter of the technology when the first Oculus Rift, HTC Vive, and PlayStation VR headsets launched for consumers, the company exited the space in 2017 by halting VR development and shutting down both its Atlanta and Newcastle offices. Many believe that pressure from investors was a major factor in this decision.
The company still supports EVE Valkyrie, Gunjack, and Sparc. However, it is focusing its development efforts on PC gaming through EVE Online while working on mobile gaming projects. These include adding more features to EVE Online's mobile app and working on EVE: War of Ascension and EVE Echoes. The latter game is a mobile MMO developed in partnership with NetEase, which might help the EVE franchise grow among Chinese audiences.
In an interview with Rock Paper Shotgun, Pétursson said that the decision to abandon VR came as a result of an extremely small install base and low engagement from headset owners. He stated that the numbers were below CCP's lowest expectations.
But with that said, Pétursson remains hopeful that VR will one day become viable.
"We still believe in the future of VR, and we might have a comeback when the time is right," said Pétursson. "We're crossing our fingers for that time when we'll connect again."
Looking Ahead
According to CCP's assessments, it will take a few years for the install base to grow into one that warrants further investment. But even though the company is hitting pause on VR for now, he doubts that the departure will have a significant impact on the VR industry's growth.
"I think VR's challenge is almost at a cultural level. What we saw with the rollout of the various headsets since 2015 that audience for VR wasn't very big," he explained. "First innovator cohorts like me, who have been waiting decades for VR, were only a few million strong. The rest of the world wasn't very hot for it."
Pétursson maintains that the audience will slowly grow as the technology matures, with experiences offered at stores, VR cafes, and entertainment events.
In the meantime, CCP is working to further improve the player experience with EVE Online, which still remains strong.
"The backbone of our long-term retention is the connection people make with others inside the game," said Pétursson. "EVE Online builds an environment that is engineered to push people together for both good and bad. Those intrinsic designs create and forge friendships and enemies like nothing I've seen before. That becomes the reason why people play the game for decades."