The performance of the RTX 30 Series is nothing short of exciting for those who demand triple digit framerates and/or higher resolutions with ultra settings to boot. It no doubt delivers a level of visual fidelity and affordability like we've never seen before. With all of that power and value in mind, some may have a little extra room in the budget to jump for the premium offerings from AIB board partners like EVGA. One such product family you may be interested in is the EVGA Hybrid series, which is now available for the RTX 3080 and 3090 models. If you can manage to actually find one that is.
While air cooling continues to grow more sophisticated and efficient, many will still agree that wetter is better. The EVGA Hybrid series offers factory sealed "all in one" AIO solutions for the RTX 3080 and 3090 models. That means you get your GPU with a fully-integrated, maintenance free watercooler. There's no risk of leaks due to a novice assembly, there's no changing the water every six to twelve months, and there's no hassle of choosing components. You can just plug and play, or jump straight into the overclocking software of your choice to tweak performance gains.
Needless to say, the Hybrid series from EVGA and similar products from other manufacturers have grown quite popular over the years. EVGA first introduced the series alongside the Nvidia GTX 900 Series. It's known for it's ultra-low operating temperatures, quiet fans, and overclocking potential. EVGA builds in a small factory overclock as you would expect, but willing enthusiasts can take things even higher. The Hybrid products also feature somewhat compact designs thanks to the blower-style fan within the case, while the 240 mm radiator handles the bulk of the cooling. This is why EVGA calls this a hybrid design as opposed to pure water blocks. The design also cools both the die and the memory, which is nice.
Decisions, decisions
There are two options when choosing between the 3080 and 3090 models. The XC3s are the less expensive base versions, while the FTW3s feature more aggressive overclocks and customizable RGBs. It's worth noting that the XC3s have a few RGBs, but the FTW3s have far more. As for the aesthetics, all of the Hybrid cards feature a matte black plastic design. They look a bit dull compared to previous iterations, so if you want something flashy, you seriously might want to consider the FTW3s.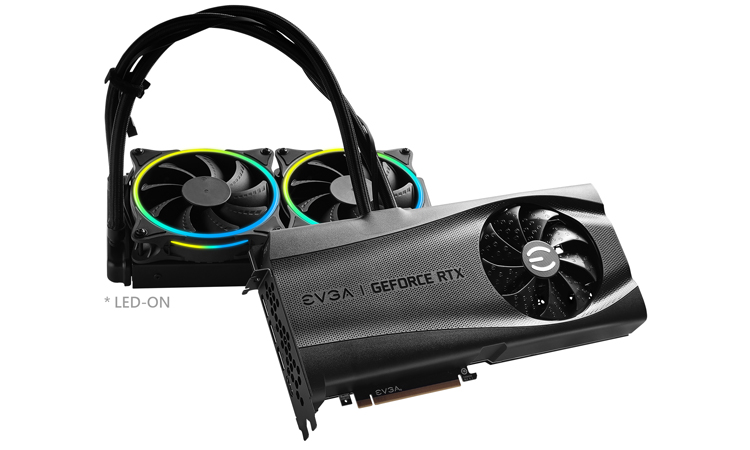 As to how much of a difference the overclocks are between the two variants, it depends. The 3080s only differ by 45 MHz, while the top-tier FTW3 3090 will boost 75 MHz higher over the XC3. It ultimately depends on how much you want to spend for the extra performance. The top tier variants typically see diminishing gains when considering the cost to performance ratios, but hey, it's your cash. Speaking of pricing here's everything you might want to know.
EVGA RTX 3080 Hybrid XC3 – $779
EVGA RTX 3080 Hybrid FTW3 – $819
EVGA RTX 3090 Hybrid XC3 – $1619
EVGA RTX 3090 Hybrid FTW3 – $1799
While the Hybrid series certainly takes the convenience crown, there are always those who prefer to do things themselves. The Hydro Copper family offers DIY fully assembled water blocks that look absolutely gorgeous. It features impressive RGB effects and even comes in at the size of 1.2 slots. These share the same boost clocks as the Hybrid series.
EVGA RTX 3080 Hydro Copper XC3 waterblock – $809
EVGA RTX 3080 Hydro Copper FTW3 waterblock – $849
EVGA RTX 3090 Hydro Copper XC3 waterblock – $1650
EVGA RTX 3090 Hydro Copper FTW3 waterblock – $1850
Preparation is key
As for the ports, all of these cards share the same specs. There are three DisplayPort 1.4a ports and one HDMI 2.1. EVGA recommends 750w PSUs to power these cards, so make sure you cover that base as well. As a final note about all of these EVGA products, you get a three year warranty with them.
All of this sounds pretty cool, but you're probably wondering when you will be able to get your hands on one of these. EVGA Global Sales Manager Jacob Freeman simply posted (via Twitter) that they will go on sale during the first week of December. We suggest you follow him for up to the minute details as we near that window.
Water cooling is always a fun avenue to explore, and now you can do it with the RTX 30 Series via EVGA. Gigabyte recently revealed its Waterforce family, while Corsair launched its own water blocks. We anticipate MSI and perhaps more AIBs offering water cooled solutions soon. If you do fail to find one of these though, AMD has Radeon 6000 Series coming soon. With that said though, they look cool, but not water cool.
Please note that all prices are in USD.