The nation of Yara is filled with countless armaments for warfare, including unique weapons. The Rococo Loco is one such example. Here's our Far Cry 6 guide to help you get the Rococo Loco unique auto-pistol.
Note: For more information, check out our Far Cry 6 guides and features hub. Likewise, you can take a look at our main guide regarding all the unique weapons in the game.
Far Cry 6 guide: How to get the Rococo Loco unique auto-pistol
The Rococo Loco unique auto-pistol is actually one of the easiest weapons to acquire in Far Cry 6. That's because all you need to do is complete a Los Bandidos mission. As mentioned in our Los Bandidos guide, this is a feature that you'll unlock once you've got access to a main base in Yara's three regions (this is done by completing the introductory quests that lead you to the rebel forces that are operating in each region).
At the start, only one leader is available (Benito), but that's totally fine. You probably don't have a lot of recruits yet, but you'd still be able to manage. You can recruit more peeps as you progress.
Anyway, simply start a Los Bandidos mission with Benito and take a look at the available options. Select the ones with the rewards that you prefer. Since it's your first time trying this system, you don't need to worry too much about severe losses or low success rates. When you're done with all three selections, you'll receive the Rococo Loco.
Here are the mods of the Rococo Loco unique auto-pistol in Far Cry 6:
Soft-Target Rounds – Heavy damage versus unarmored targets; weak against armored targets.
Fast Reload – Improves reload speed.
Press Your Advantage – Increases weapon damage versus enemies at low health.
The biggest problem with the Rococo Loco is something you'll also notice with low-tier unique weapons in Far Cry 6. Just like the Lethal Dose, it's permanently got the Soft-Target Rounds mod. Once your enemies start wearing body armor and helmets, it'll be completely useless.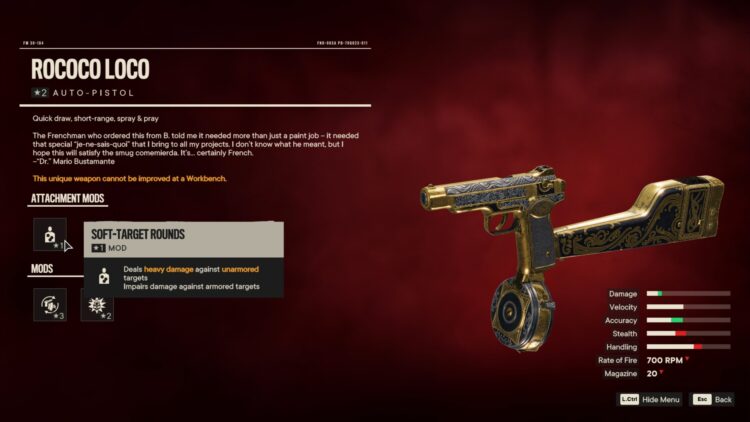 ---
Far Cry 6 is available via Ubisoft's store and the Epic Games Store.