A couple of months ago, Sega and Sports Interactive announced the release of Football Manager 2020. That's not a surprise; a new one comes out every year. But now we've got a reason to get very excited. They've just announced the release date for the game will be November 19.
If you simply cannot wait the one month and four days to get stuck into the most in-depth football management game out there, then you might want to think about pre-purchasing it. Everyone who pre-purchases Football Manager 2020 will get a 10% discount, as well as access to a beta version of the game two weeks before the launch date.
Unfortunately, there are no new updates on when the Google Stadia version of the game will launch. We have been told by Sega that more details are coming soon.
New tactics
Every year, Football Manager introduces new features and improves existing ones. Sports Interactive is always spot-on when it comes to delivering what fans want. This year, they've put a lot of focus on youth player development. There's nothing more satisfying in Football Manager than unearthing a wonderkid and developing them into a world-class player. In Football Manager 2020, it will be easier to plan and track the development of your youth teams in the all-new Development Centre.
The advice you receive from your backroom staff has also undergone a massive update in Football Manager 2020. It's been redesigned to simulate the collaborative way real-world football clubs are managed. You will get advice on everything from team selection to a detailed analysis of how you are performing on every square of the pitch.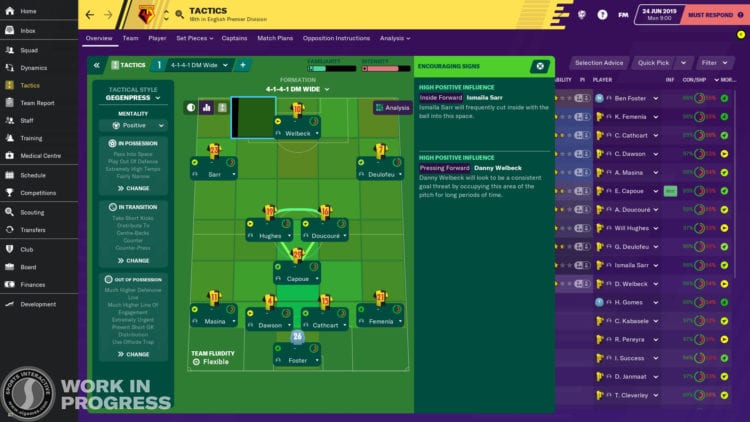 One of the biggest changes being made by Sports Interactive isn't one that's in the game. Rather, it's the packaging that Football Manager 2020 will come in. They're replacing the plastic box typically used across the industry and, instead, are using a 100% recycled gatefold cardboard sleeve, made with 100% recycled fibers. Not only that, but the ink used to print on the packaging is made from vegetable and water-based ink. Even the manual inside is made from recycled paper.