Hi-Rez Studios is well known for its portfolio of free-to-play multiplayer titles. These include the Overwatch-like Paladins, the Smite MOBA, Rogue Company, and more. It's so well known in fact, that the company holds an annual showcase each year, which is now entering its seventh iteration. Ahead of time, Hi-Rez has shared some details on what to expect from the showcase, including upcoming Rogue Company content.
The showcase centers around a huge Smite esports tournament. This year's competition contains a whopping $600,000 USD prize pool, showcasing the team's growth. However, a range of keynotes will also be delivered, and this is where we expect to hear about the future of its current roster of games.
The keynote presentation takes place January 7 at 3:30 PM ET and will last roughly half an hour. This look at upcoming content is sandwiched in-between trivia and cosplay contests, and more esports goodness to close the day out. The following three days of the event will lead to the conclusion of the tournament on January 10.
Hi-Rez hasn't specifically mentioned anything about revealing a new game, so such a reveal at the showcase seems unlikely. The studio's portfolio isn't exactly unique, but the developer delivers accessible multiplayer games that scratch a certain itch. When the time is right, we look forward to their next game, but this year's showcase looks to be all about existing releases.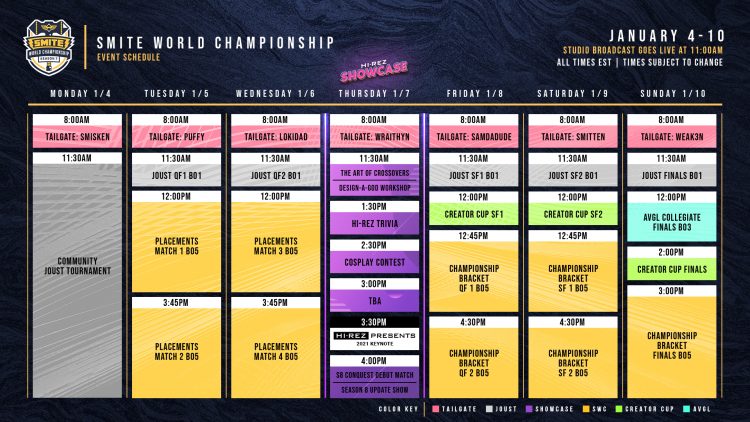 Going rogue
The latest Hi-Rez core title, Rogue Company, seems to be trucking along nicely ahead of the showcase. It got a solid reception at launch, and free updates and content drops are ever present for the game. New characters (known as Rogues) are consistently added to keep things fresh, and new maps tend to arrive with each seasonal update.
The latest update was Arctic Shield. It brought a new map, alterations to existing maps, a spectator mode, and more. The Hi-Rez Showcase tournament has already begun, with the keynote taking place January 7 at 3:30 PM ET.