Ubisoft has rolled out the latest patch update to its battle royale, Hyper Scape. The Hyper Scrape patch introduces brand new game modes, such as team deathmatch, an in-game feedback system, and more. Also, the developers have decided to extend the duration of Season 2 and update the game modes that were already planned. This means the battle pass timer will be removed and the daily shop rotations and challenges will be extended.
If you are familiar with the first-person shooter genre, it is likely that you have played team deathmatch. Team deathmatch is a 6v6 game mode that is now available in Hyper Scape. This game mode will take place in certain areas of Neo Arcadia. The winner will be the first to reach 40 eliminations, or have the most kills in 10 minutes. If you get eliminated, you will respawn with your weapons and hacks, so there is no need to hunt down new loot. However, more loot will spawn throughout the match so you can fuse your weapons and hacks. It is important to note that team deathmatch is has been rolled out in beta form. Therefore, challenges are disabled in this game mode and you may encounter some bugs.
Jump in and explore the Hyper Scape
Another new addition that is in beta stage is the Arcadium, also known as free roam. This is a training mode which allows you to experiment with various hacks and weapons. You will spawn in the Throne Hall, and the AI bots will be distributed near The Red Tiger district, The Line, and Throne Hall. This is a solo mode with no in-game events or sector decay. As a result, you can explore the map with no interruptions and experiment with Season 2 hacks and weapons at your own pace.
If you played Hyper Scape through Halloween, you will have noticed candy pickups that increase your speed. Now, health pickups have been added to the Crown Rush game modes. Once they are picked up, they will restore 20hp. The health pickups can prove to be a game changing feature if you are in a gunfight as it will help you gain an advantage over an injured enemy.
Ranked play keeps evolving in the latest patch
Due to the various changes with ranked play, your rank will be reset to allow you to adapt to the recent tweaks that have been made. Each player rank has now been divided into separate divisions. Each rank will be split into five divisions and the threshold of these ranks have been rebalanced. As well as this, Duo Crown rush is now a ranked mode, so you can try and climb to the top with a friend.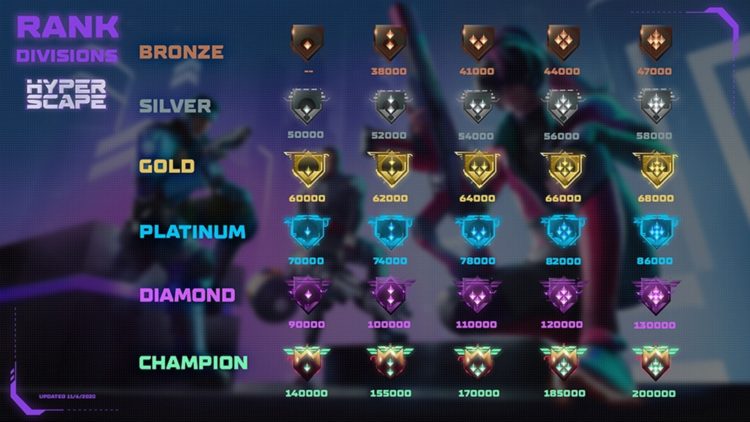 Moreover, Ubisoft has implemented an in-game feedback system. This opens up communication between players and developers. The questions will be directly from the developers and they will be about specific areas of the game, or your experience as a whole. Already, the developers have acknowledged fans concerns involving squad markers. In response, the shape of them has been improved to make them more visible.