2014 Unspecified Release Dates
The Incredible Adventures of Van Helsing 2

(NeoCore, 2014)
A surprise ARPG hit of 2013 will receive a sequel (a second chapter, really) this year. Continuing where the first adventure left off, Van Helsing 2 will hopefully expand on some of the inventive quest design from the early part of the original game and ease off on some of the grind from its latter parts.
Infinite Crisis (Turbine, 2014):
LANE! MOBA! CREEP! Okay, those words don't quite work as onomatopoeic Batman fight sounds. Imagine if they did, though. They'd be perfect for describing this DC Comics based MOBA title.
Only just announced at the end of last year, so not a whole lot is known yet. Supposedly, it's an open world RPG based on the grim reality of Middle Ages history, with an original first-person melee system. On that basis, it sounds like it has the potential to be great.
More dungeon crawling in a Dungeon Master kind of fashion, except this time you'll be allowed outside in forests and stuff. That's probably just an excuse to throw horrible forest-dwelling creatures at you, though. Not a cue for a nature walk.
Third-person action RPG in the Lords of Shadow vein. It's claimed you'll need to be methodical in each encounter though, which sounds a bit Souls-ey to me.
Mad Max (Avalanche, 2014)
Avalanche made Just Cause 2. Now they are doing a Mad Max game. The union seems almost too perfect.
I remember this sounding like XCOM's tactical battles combined with the persistent family lineage of Crusader Kings II and I don't want to look anything up that might spoil that beautiful illusion.
Middle-earth: Shadow of Mordor (Monolith Productions, 2014)
Third-person hobbit-em-up in which a ranger sees his family die and acquires wraith powers, somehow. Then he takes a trip to Mordor. As you do. The big deal about this game is the Nemesis System™ which should allow enemies to remember how the player fought them last time and adapt their own skills accordingly.
A Mirror's Edge sequel in the Frostbite 3 engine. For now, let's just enjoy how magnificent those words look.
Honestly, I have no idea if this is intended for release in 2014. I just want it to be. Aside from a scattering of screenshots last year, we haven't heard very much at all about this sequel since it was teased back in 2012. The first game was an outstanding RPG sandbox (and terrific multiplayer clusterfuck,) as well as one of the very first 'crowdfunded' titles ever to reach a full release. If Bannerlord can live up to expectations it should be something quite special.
Next Car Game (Bugbear Entertainment, 2014)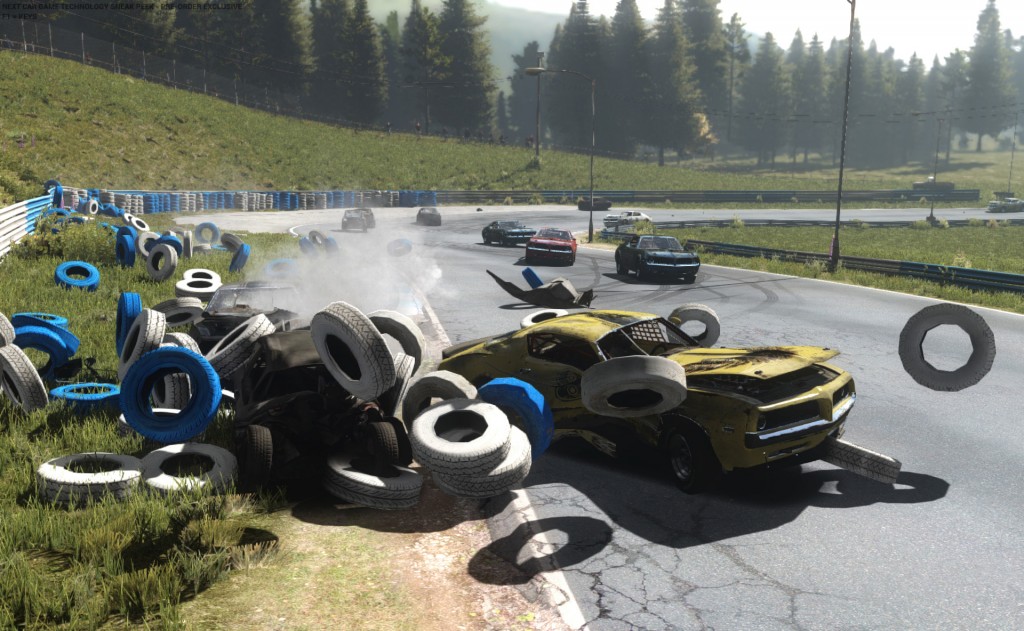 Paul reminded me of this one during our last podcast, so on to the list it goes. Currently in Early Access, but presumably due later in 2014, this is Bugbear's attempt to do Flatout meets Destruction Derby with a suitably satisfying car damage model.
Luckily, it seems as if Hello Games didn't lose any game code in their recent brush with flooding. That means this wildly ambitious, procedurally generated space exploration title should still be on course for 2014. An early front-runner for the Most Molyneux Game of the Year.