Magic: Legends just received its first major content update as well as the second post-launch class to be added to the hack 'n cast action RPG, the Pyromancer. The first class was the Dimir Assassin that players could unlock through the battle pass. The update to Magic: Legends also continues the game's narrative with Act IV: Chasing Answers.
One of the best things about the Pyromancer is that you can get it for free. From now until May 24 at 1 PM ET, you just need to go to the in-game store to unlock it. Plus, the Pyromancer, its costume, and some extra spells have been added to the early levels of the free track in the current battle pass.
Not only can you get the class for free. Magic: Legends also has a bunch of extra free content that can be unlocked just by playing the game. Cryptic Studios clearly learned a lot from its Dimir Assassin debacle.
Magic: Legends Pyromancer abilities
The Pyromancer is a ranged caster that wields the power of Red mana. The playstyle of the new class is all about igniting the battlefield. Put another way, you need to get damage over time effects onto enemies, then hit them with spells that deal more damage to enemies with active effects on them.
Fireblast is the Pyromancer's primary ability. It shoots exploding fireballs from the class's twin wands. The Pyromancer's secondary ability is Incinerate. It creates a burning whirlwind that applies a damage over time effect to enemies. Alacrity Ablaze is the class's utility ability. It's a short dash that leaves a trail of fire in your wake. Again, applying damage over time to enemies.
The Pyromancer's max level trait is Finale of Flames. It causes any enemy effect by a damage over time effect to explode on death. You can probably now see how the class will play. Finally, the class's Spark Power is Living Inferno, which causes you to shoot a jet of fire from your hands.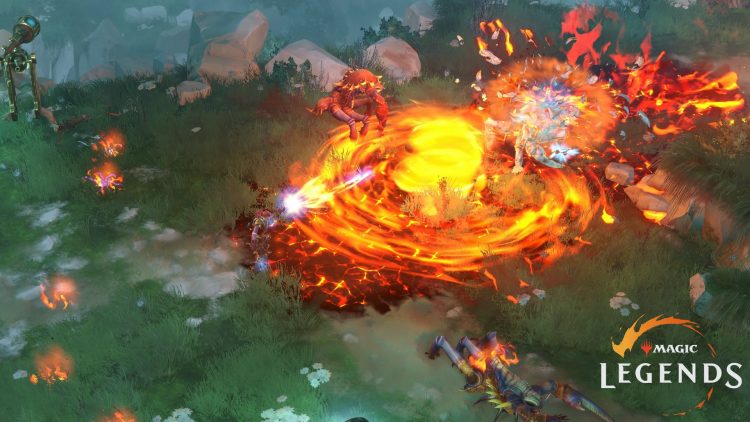 The next chapter
The Magic: Legends story also continues with the latest update. Act IV: Chasing Answers is now live in-game. You will continue to pursue the mysterious Planeswalker you've been chasing since the game's opening scene to the land of Benalia. In this part of the story, you will finally confront the elusive Planeswalker alongside Ral Zarek. You will also learn more about the ancient evil force lurking in the darkness.
You can check out the complete patch notes for the latest Magic: Legends update on the game's website. Along with the content additions, there are also tons of fixes and performance improvements.