Every industry this year has faced some serious setbacks due to the ongoing global pandemic. One of the hardest hit industries though has been the film industry. After all, the industry functions by people going to theaters to watch movies, which is something that obviously can't be done right now. Every major tentpole film this year has either been pushed back to next or just delayed indefinitely. Everything from the latest Bond entry No Time to Die, to the latest Marvel Cinematic Universe joint Black Widow has felt the wrath of COVID-19. In fact, the only big film seemingly not budging on its 2020 release date is Wonder Woman 1984, but that won't last much longer. It seems that now the upcoming Mortal Kombat film can be added to that list as well.
The film was originally slated for January 2021, but like most films in production limbo right now, that date was almost certainly just temporary. Yesterday a tweet from one of the film's producers, Todd Garner, explained that the film had been set to undergo some reshoots. Obviously though, those plans were shafted due to the pandemic, and this now leaves the film stuck in limbo. Until these reshoots can be safely completed, don't expect any news, or even a trailer, for the Mortal Kombat movie anytime soon.
Do not take the fact that the film is undergoing reshoots as a sign of trouble though. Despite what many seem to think, 99% of films made today, especially big tentpole blockbusters, undergo reshoots to some degree. In fact many production schedules take this into account when filming. Despite the absolute, meme-worthy disaster that was the last theatrically released film from the franchise, Mortal Kombat: Annihilation, anticipation for this new film has been very high. The project wrapped filming in December of last year and has been in post production ever since.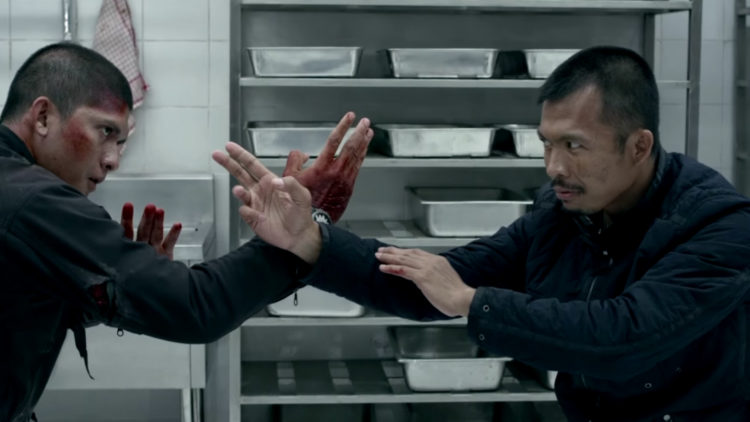 A fantastic gathering of Kombatants
Produced by James Wan, of The Conjuring and Aquaman fame, this new Mortal Kombat movie has been acquiring a promising cast of talented actors and martial artists to bring to life the iconic characters from NetherRealm Studios' beloved franchise. Names like Ludi Lin (Power Rangers) as Liu Kang, Joe Taslim (The Raid, The Night Comes for Us) as Sub-Zero, and Hiroyuki Sanada (The Last Samurai) as Scorpion just to name a few. The film is directed by Simon McQuoid, a first time director hand picked by Wan for the project.