If you've gone hands on with Call of Duty: Black Ops Cold War multiplayer, you'll have seen an MP5 or two on the battlefield. The popular SMG choice has been a powerful one in Black Ops Cold War. The weapon's easy handling characteristics, solid range and good firepower have made it stand out amongst the launch weapon list. However, developer Treyarch has deployed a small update, nerfing the weapon.
After stat changes were discovered by players via the game's Gunsmith system, Treyarch formally announced the change. The team has reduced the base effective damage range by 33%, and adjusted the initial recoil. These stat changes account for the weapon without attachments, but they will affect the gun across the board. Treyarch's tweet rather cheekily referred to the weapon in question as Submachine Gun Alpha, but we all know it's the MP5.
The Black Ops Cold War developer had already committed to making changes when season one drops in December. Treyarch game designer Tony Flame said that there'll be balance changes coming to weapons, scorestreaks and more with season one. However, we think the MP5 was a little too good in Black Ops Cold War, so the team decided to make that sole change a few weeks early. You're now encouraged to play around with the other four SMG options.
What's in store
That's not all of the content set to arrive in season one. A post-launch roadmap was laid out not long ago, where Treyarch announced its plans for the first wave of new content. Nuketown '84 arrives ahead of season one on November 24, bringing a classic Black Ops map into the multiplayer mix.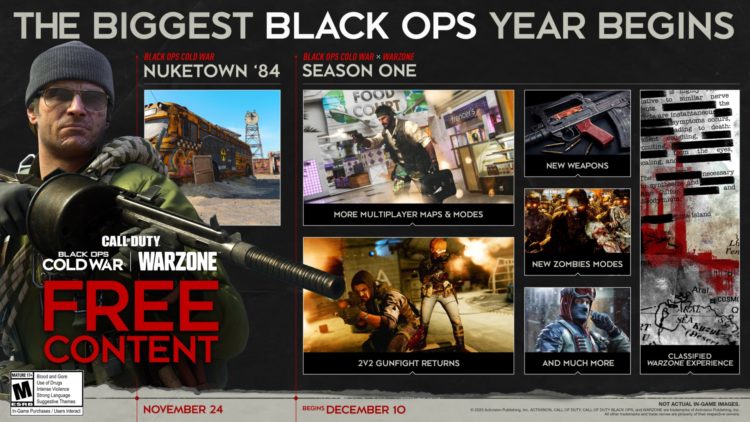 Then, on December 10, a host of new additions are coming to Black Ops Cold War. There'll be new multiplayer maps, the return of the 2v2 Gunfight mode from Modern Warfare, new weapons, new game modes and more. The merge of Black Ops Cold War and Warzone is also set to take place when season one begins.