The world is on the brink of destruction. Magic is dying out, and with it the last hopes of stopping the coming doom. How will you stop it? By typing, of course. At least that's how you do it in Nanotale, which released on Steam Early Access today. Developed by Fishing Cactus, Nanotale is part of the Typing Chronicles franchise and follows 2016's Epistory. We liked Epistory, by the way, and said that it was "a pretty magical way to give your typing fingers an adventurous workout."
Clickety-clack
Nanotale is a magical typing adventure. Players will assume the role of Rosalind, a novice Archivist, as she ventures forth on a journey to discover the truth behind the end of the world. The story sounds similar to others we have seen before, but the game does seem to carry with it a certain whimsical charm. Plus, you collect rock and plant samples. It's always refreshing to see a protagonist with a profession other than hardened warrior/space Marine/badass.
The color palette is vibrant, and the art style evokes cheerful fairy tales. There also never appears to be too many enemies or objects on screen at once, so Nanotale at least looks to be a relaxing experience. On the other hand, Fishing Cactus says that "vigilance and finger dexterity are the key to success."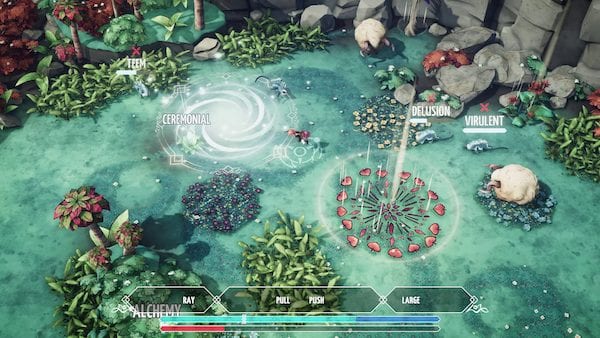 Type R-P-G
However, Nanotale isn't just a typing adventure. It features RPG elements to help immerse players in the world, so there will be characters to interact with, puzzles to be solved, and magical abilities to learn. Rosalind appears to have a mana bar, and you can choose different spells – for example, push or pull – to interact with the world around you. Typing games haven't exactly been at the forefront of the gaming zeitgeist, but it's nice to see Fishing Cactus experiment with their gameplay and devote so much time to worldbuilding.
Nanotale is currently on sale on Steam for $14.99/€14.99/£11.99.