[Update – April 12 @ 2:45 PM ET]: According to the Outriders official Twitter account, the Xbox patch for the game has gone live, allowing all platforms to enjoy the cross-play function. However, the inventory wipe glitch still persists. The developer is still working on a solution. Inventory returns are also still being planned for the near future. The original story follows.
Despite publisher Square Enix and developer People Can Fly delaying Outriders out of 2020 for cross-play, the feature still wasn't fully ready at launch. It was available, sure, but also busted. PC players attempting to join parties with friends on consoles were met with desync issues. Square Enix later asked people to avoid the feature until it got fixed. Well, after today a patch will open up cross-play in Outriders between PlayStation and PC users . However, you still can't play with your friends on Xbox.
In a Twitter message, the Outriders account announced that cross-play is "now possible." Of course, without trying it for ourselves, we're not sure if the feature is finally working. Last week, players were asked not to use it due to "desynchronization between the PC and Console code." Those who tried to join parties on opposing platforms found themselves kicked back to menu. Steam and Epic Game Store players were able to connect, as could PlayStation and Xbox users.
Today, just about everyone can play Outriders together, no matter the platform. Okay, there's obviously an implied asterisk after "just about everyone." The Outriders account reported that PC and Xbox users still can't connect via cross-play. However, it hopes that the feature will finally be available for all once the patch rolls out onto Xbox.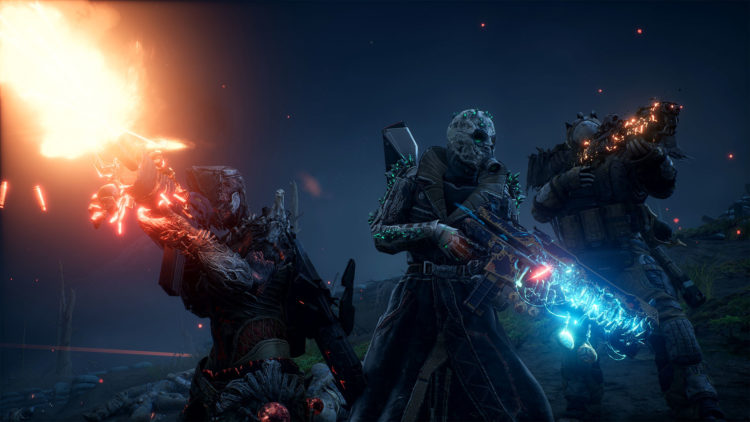 Getting the band back together
The cross-play fix is coming alongside the first major post-launch patch for Outriders. Details on the patch came out yesterday, so it's good to see this friendly addendum. The patch addresses many of the other, non-cross-play related issues. Disappearing inventories, missing HUDs, and crashes on top of crashes, all will be supposedly fixed with the update. The patch will also nerf some abilities. For example, the Trickster class is getting nerfed into the ground.
If you're interested in looking at the patch in its entirety, be sure to follow this link.