The return of Crypto from Destroy All Humans! has been long overdue. The last time we saw this invading little alien was in 2008's forgettable Destroy All Humans!: Path of the Furon. Since then, fans have wondered if he'd ever have any kind of notable return.
Last year, their prayers (death wishes?) were answered with the announcement of a full-on remake of the original Humans! that started it all. A lot of hype went into the game (including a rather luxuriously priced special edition with collectible statue). But very little was seen on it – at least until today, at PAX East, when we had a chance to go hands-on with it at THQ Nordic's booth.
In Destroy All Humans!, players control the pint-sized alien as he makes a true menace of himself. He lands on Earth sometime during the 1950s era, when humans don't really know any better. That allows him to slip right in and wreak havoc however he sees fit. However, he doesn't just do it with the same old technology. Nope, he's got some weapons that help him out.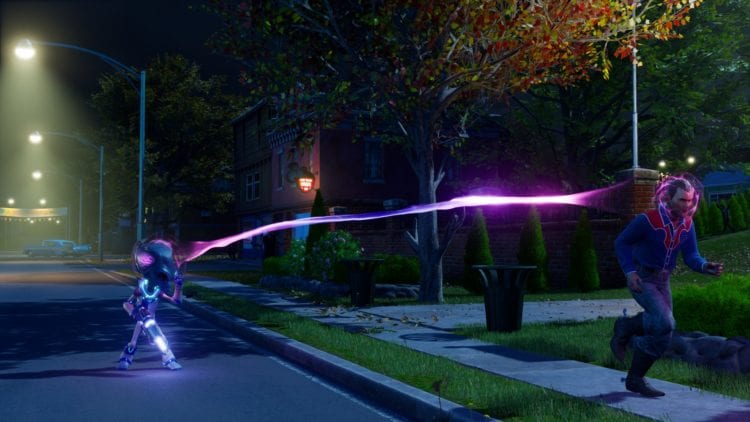 The best alien for the job
First off, Crypto is able to read thoughts – something demonstrated early in the demo via a hilarious interaction with cows. But then things get a little visceral, as he can use telekinesis to launch them great distances. This draws the attention of the farmer and his fellow hands, who you can mow down with your blaster. But the fun doesn't stop there. You can also tap the appropriate button to take their brains. No, really.
You'll find some very cool abilities in Destroy All Humans!, but that's just when you're outside of your UFO. Once you get behind the wheel, you can lay waste to enemies and structures on the ground. This is typically done through your Death Ray, which you can use to fry things to a crisp, though it only has so much power to spare. Luckily, it recharges quickly enough that laying waste isn't held up too badly.
As the game goes on, you also open up new abilities for Crypto. This includes using a human counterpart to distract others, or even taking part in some mind control. We didn't see too much of these abilities during the demo, but the fact they're included from the original game is a treat.
A better-looking Earth to take over
Along with gameplay that holds up just as well as the original game (or maybe even better – more on that in a second), Destroy All Humans! has beautiful remastered visuals thus far. The environments look better than they did in the original, and the weapon effects are far more focused here. What's more, I thought I could see a little surprise on the cows' faces as they flew through the air.
I also liked the animations a bit more here, particularly on Crypto himself. He scrambles around like the boss he thinks he is. His ship looks groovier than it did before, too. And the humans look even more hapless, if that was even possible.
As for those gameplay improvements, you can now multitask a little more smoothly. That means picking the brain (literally) from a fallen opponent while shooting at another, or performing other tasks. A lot of folks asked for this to be improved from the original Destroy All Humans!, so it's nice to see it. And let's not forget the sweet upgrades, which can make your gear even more powerful. You just can't keep a good alien down.
Not to mention that there will be bonus content. One of the THQ Nordic producers explained that a "lost mission" from the original game is in the remake. And there may be more where that came from, though he wouldn't detail it any further. Still, it's hopeful that Crypto's adventures will expand further than anyone expected.
The world is Crypto's
Though the game isn't due until sometime this summer, Destroy All Humans! should have no trouble dominating when it arrives. Whether you opt for the cheaper version on Steam or one of the deluxe special editions, you'll find this alien to be a happy handful.
Check out the trailer below, and prepare for your suffering, humans.