LEGO Marvel Super Heroes (TT Games) – Release Date: Q4 2013
Uh-oh, putting Marvel so close to a DC-themed game could cause some sort of para-dimensional meltdown. Let's just move on and hope that doesn't happen. Like pretty much all Lego games of the past few years, this one has every chance of being just as charming and clever as all the rest. As was the case with Batman 2's open-ish version of Gotham, it sounds as if New York will be the central hub location for your 100+ Marvel heroes (and villains) to be running amock in.
The Magical Realms of Tír na nÓg: Escape from Necron 7 – Revenge of Cuchulainn: The Official Game of the Movie – Chapter 2 of the Hoopz Barkley SaGa (Tales of Game's) – Release Date: Q4 2013
Slam with the best, or jam with the rest.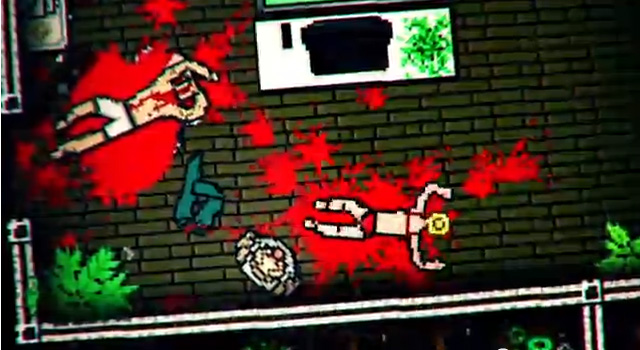 Hotline Miami 2: Wrong Number (Dennaton) – Release Date: 2013
Do you like hurting other people … again? Dennaton's deranged, depraved and deeply engrossing top-down stab-a-thon will be returning (and concluding) with this sequel. As long as the soundtrack is the equal of the first, everything should be fine.
Outlast (Red Barrels) – Release Date: 2013
Former Ubisoft developers had united under the banner of Red Barrels and held a lot of late-night discussions about how to scare the mouse and keyboard right out of our hands. The result of these debates will be the first-person horror survival title, Outlast. Stealth games are an inspiration, with the intent for hectic, terrifying chases when things go wrong.
DayZ (Bohemia Interactive) – Release Date: 2013
Rocket and co are still working hard on this stand-alone version of the insanely popular zombie mod for Bohemia's Arma 2 title. A modified engine would probably have made Chernarus look more delightful than ever before, were it not for the ever-present danger of violent attack from zombies and fellow players. The survival formula will remain just the same in this release, but there are plans to improve and overhaul almost every other aspect.
Infinite Crisis (Turbine) – Release Date: 2013
DOTA-like, MOBA, lane-pushing-game-thing … whichever term you favour, Infinite Crisis is going to be one of those. Except with the familiar faces of DC Comics instead of whatever weird and wonderful characters your title of choice came up with.
Gone Home (Fullbright) – Release Date: 2013
A game about walking around an empty family home looking at things and listening to Riot Grrl punk music. Look, shut up, it's made (in part) by one of the guys who did Minerva's Den for BioShock 2. It'll be great. Trust me.
Sacred 3 (Keen Games) – Release Date: 2013
There's a strong chance that this will be the third game in the Sacred series. That's, well, that's pretty much all I know about this, and the action-RPG series in general. A quick scan of a few Sacred forums suggests that the fans are nervous about how this one will turn out, and seem starved of any real news about the title.
State of Decay (Undead Labs) – Release Date: 2013
There's still no precise indication of when State of Decay will get a PC release, but Undead Labs' Jeff Strain is clear that a PC version is indeed in development. Steam platform integration and mouse/keyboard controls are being worked on at present, alongside bug fixes and updates for the exceptionally popular Xbox Live version. Hold on a little longer everyone, you'll get your State of Decay sometime in 2013.
Something missing? There probably is. Mention it in the comments below and it may well get added to the list.