As promised, Rockstar has sent out the first load of Red Dead Redemption 2 PC screenshots by train — and thankfully, it didn't get intercepted by bandits.
You can feast your eyes on the rather gorgeous 4K resolution screenshots scattered throughout this piece, but we've also got information on the new game content coming to the PC version, and the shiny technical updates that'll make it look lovely.
Red Dead Redemption 2: Die Prettier
In terms of pure tech stuff: Yes, it's going to look a lot better on PC. Increased draw distances is a big one, which is inevitably going to result in thousands of picturesque screenshots. We'll be getting better global illumination and ambient occlusion for more sumptuous day and night lighting, better snow trails, improved reflections, higher-resolution shadows, tessellated tree textures, and improved grass and fur textures. The short version is that everything will look considerably nicer.
If the screenshots didn't tip you off, Red Dead Redemption 2's PC version will also support 4K resolution "and beyond." Promises include HDR, multi-monitor configurations, and considerably faster frame rates. That last one's the big one to me, but if you've got a spectacularly beefy system and want to play across multiple monitors, it sounds like that may be feasible.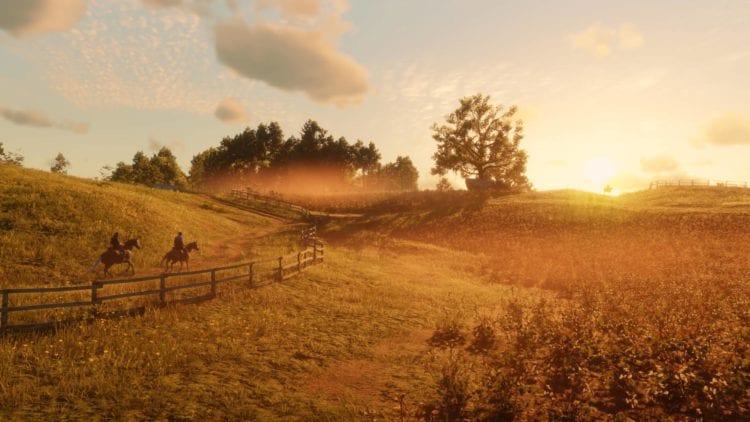 Some bountiful improvements
Those of us picking this up on PC will also be getting some new Story Mode content. Note that this isn't necessarily story content, though. There is one new mission (titled "To The Ends of The Earth," which asks players to collect herbs for a range of rewards), but it looks like it's all side content to enjoy along the way.
Let's talk specifics. We'll be getting three new Bounty Hunter missions: Herman Zizendorf has been stealing tools and can be found in Blackwater. Camille de Millefont is an ex-Confederate cavalry officer hiding out with his men near Catfish Jacksons. And Bart Cavanaugh and his gang are camping in Big Valley.
There are also two new Gang Hideouts, with the Del Lobos gang setting up in Gaptooth Breach and Solomon's Folly. Finally, there are two new treasure maps: "Landmarks of Riches" and "The Elemental Trail."
Not enough gun
That's about it for additional playable content, but the PC version of Red Dead Redemption 2's Story Mode will also offer four more weapons, four more horses, three wild horse variations, and five new trinkets.
Guns:
M1899 Pistol – a semi-automatic handgun with clip loaded ammunition. This one's brand new.
Evans Repeater – a high-capacity repeater, previously in Red Dead Online.
High Roller Revolver – a double-action revolver, previously in Red Dead Online.
Le Mat Revolver – a revolver that can shoot shotgun shells, previously in Red Dead Online.
Horses:
Warped Brindle Arabian.
Few Spot Appaloosa.
Perlino Andalusian (previously in Red Dead Online.)
Red Chestnut Arabian (previously in Red Dead Online.)
Buttermilk Buckskin Kentucky Saddler, Liver Chestnut Morgan, and Gold Palomino Tennessee Walker wild horse variations.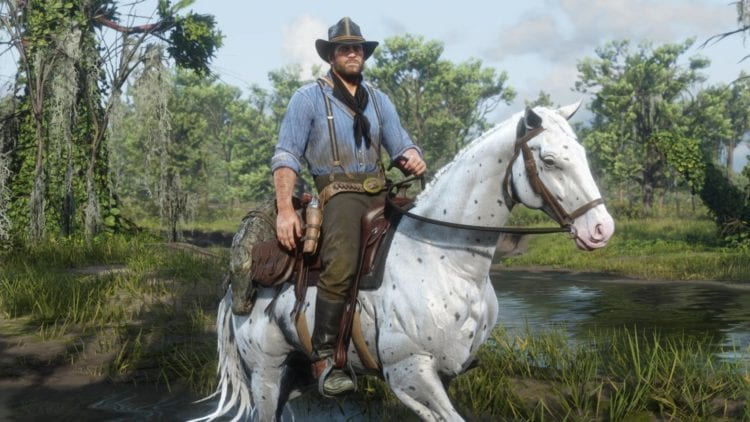 Trinkets:
Hawk Talon – permanently decreases Stamina bar drain speed by 30% when drawing a bow.
Cat Eye – permanently increases the length of Fortifying tonic effects by 20%.
Shark Tooth – permanently increases horse bonding experience bonus by 10%.
Turtle Shell – permanently increases health bar refill speed by 10%.
Crow Beak – permanently increases looted ammo by 10%.
Whew. Probably not the most major of things, but it's more stuff, and it's nice to see some Red Dead Online-exclusive whatsits making an appearance in Story Mode on PC.
The full PC specifications were released earlier today, and preorders should be available right now on the Rockstar Games Launcher. You can check out the preorder bonuses as well. You can admire the shiny new screens below, and you should keep your eyes peeled for a 4K 60 FPS trailer that is apparently coming soon.
Red Dead Redemption 2 is due to hit PC on Nov. 5.