QuakeCon 2021 is set to kick off today, with livestreams showcasing Fallout, Doom, and, oh, a possible remastered Quake game. Thanks to the QuakeCon schedule being a bit too candid last week, it was revealed that a "revitalized Quake" was on the horizon. The new Quake game was rated earlier today ahead of the show, by both the ESRB and a Korean ratings board. So far, there's plenty of evidence suggesting a Quake Remastered, and its description only adds more gibs to the pile.
As spotted by Gematsu, the Game Rating and Administration Committee of Korea rated the game. According to the report, it's going by the name of Quake Remastered. However, the ESRB, after rating the game M for Mature (shocking), merely refers to it as Quake. But give the description of this 'revitalized' Quake a read and make your own judgment.
"Players traverse through maze-like medieval enviornments [sic] and use shotguns, nail guns, and grenade launchers to kill various enemies (e.g., zombies, demonic forces, scorpions, humans) in frenetic run-and-gun combat," reads the rating summary. "Battles are accompanied by gunfire sounds, screams of pain, and large explosions."
Yeah. What a mystery.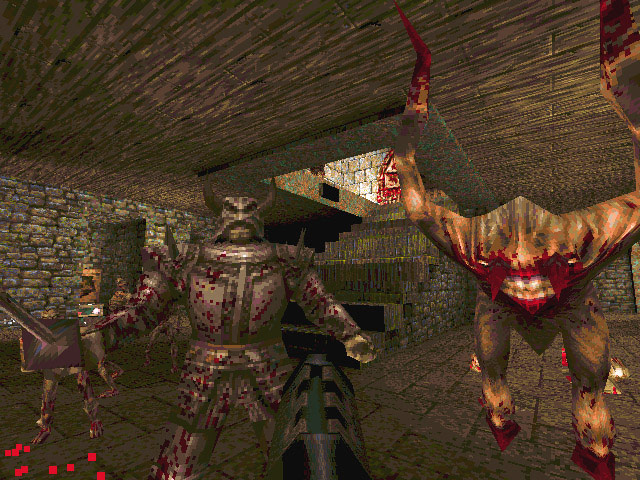 Quake remastered or a remake, either way, I want it
As reported last week, the 'revitalized' Quake got mentioned in the QuakeCon 2021 schedule before getting removed. In a blurb for the "Let's Talk Quake" segment, it was revealed that the new game was being developed by Wolfenstein developer MachineGames. Before getting altered, the original line read: "Quake is back, in this special stream John Linneman from Digital Foundry talks to Jerk Gustafsson of MachineGames about the title's iconic legacy and what it meant to both of them. The pair will also discuss the additional content Machine Games have contributed to this revitalized edition."
It's very likely that Quake Remastered (or whatever it will be called) is getting unveiled today following the pre-show. We'll be sure to watch and report back on what we see.