It's hard to deny the fact that the games as a service (GaaS) business model has dominated the last few years of the industry. Fortnite, Call of Duty, and the Destiny franchises have all embraced seasons and ongoing updates to make improvements based on community feedback. As each GaaS title evolves, so does the player experience. This can be a good thing, especially for developers who didn't necessarily meet expectations at launch. As for the nearly 6-year-old Rocket League — a game I've been avidly playing since launch — the updates have led to quality of life improvements and an overall shift in the user experience during 2020.
Prior to true cross-platform play, my friends were fairly isolated. A few buddies were on PlayStation 4, some on Xbox, and a handful of others I met along the way were on PC. There were rumors of a single Rocket ID, which was perfect for someone like me who favored the PC experience over a console. The digital walls finally came down on February 19, 2019, when Psyonix introduced the Rocket ID during the "Friends" update. Players could finally request and accept new friends with a universal ID. Inventory management was also helped by consolidating all owned items into one place. 2020 has been one hell of a year for everyone, but some games like Rocket League have done exceptionally well due to key updates.
Rocket ID for all
When the Rocket ID released, it finally felt like there was some balance to the Force. More importantly, it was a sign that the game itself was evolving. In May of 2019, Epic Games opened its assumedly massive wallet and purchased the developer of Rocket League, Psyonix. I honestly never thought that Epic Games would be the one to buy Psyonix, especially considering the PlayStation launch exclusivity and Steam player base. I haven't been able to find a firm number, however, speculation in a few places points to a $200 to $300 million USD price tag. Since the game was built on Unreal Engine 3, I can't say it wasn't a bad thing for Psyonix. The name game would evolve once more because of this, requiring players to create universal Epic Games IDs to play Rocket League.
Since the acquisition, there's been noticeable quality of life improvements. However, one standout has been the improved network stability for competitive ranks.
Connectivity is key
I feel as though Rocket League trimmed a lot of fat when it became part of the Epic Games family. There was a visual overhaul to the UI with small changes to stats, garage items, and snappier menus. Menus for matchmaking were modified as well, changing the overall search criteria. In the past, you could start your multiplayer ranked match search for a 3v3, 2v2, or 1v1 duel simultaneously. This sometimes meant a minute or two (if not longer) until you were connected to a server and a match in either of those ranks. Even then, matches were susceptible to the known "not enough players to start match" error and could fail to start.
Now in ranked matches, you can only select one match type to search. Matches now connect in mere seconds, with the longest wait time being somewhere around the 20-30 second mark. The "not enough players to start match" problem still exists, but only occurs on rare occasions. I don't know if the improved search functionality is related to new servers or merely having a bigger pool of players. However, the update that really pushed Rocket League over the edge in 2020, for me, was the fact that players no longer had to pay to own it.
Free to fly the friendly skies
On September 29, 2020, Rocket League became more available than it's ever been. The change this time would remove its $19.99 USD price tag and make it go free-to-play. Anyone can now freely join and play Rocket League. The only cost comes via the in-game currency that can be used to obtain car toppers, skins, and trails. Currency can also be cashed in for the game's season pass. In fact, 2020 marked the first time I decided to purchase the Rocket Pass. It just felt right after Rocket League received such vast improvements in such a short time, including the recently added player anthems during "key moments" like scoring goals.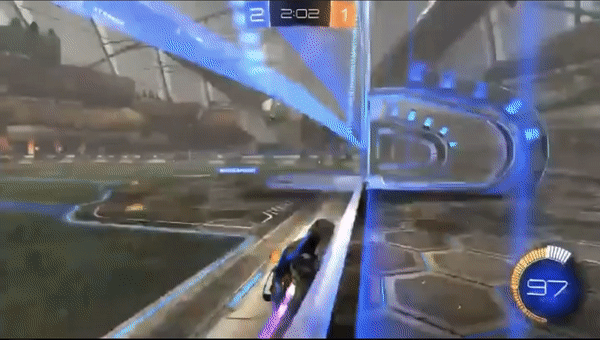 Surprisingly, the biggest beneficiary from the Psyonix acquisition by Epic Games has been the player. The almost rapid-fire updates have left me with ample motivation to continue slumming it out in the grunt ranks and working to unlock new ways to style my ride. All it took was for Rocket League to practically launch on every platform available before more players took notice – but I digress.
I'm hopeful for the next set of quality of life improvements for the competitive game about rocket-powered soccer cars. I've been playing consistently since launch, logging nearly 1,700 hours on Steam alone. Moreover, the Rocket League updates are sure to continue for years under Epic Games leadership. I don't foresee myself hanging up my driving gloves anytime soon.