Update: Many of Shenmue 3's Kickstarter backers were upset about the news that the PC version of the game would only be released via the Epic Games Store. This has left gamers who have chosen Steam as their preferred PC client high-and-dry, and several have reached out to YS Games (developer on Shenmue 3) hoping for a refund, but it appears that they will not be issuing any.
Kickstarter user Homer, and several others on forums like neoGAF, have received e-mails back from YS Games denying their request for a refund. Homer took a screenshot (which you can see below) of the e-mail saying that the YS Games initially planned to release the game on Steam. However, in conversation with Deep Silver and Epic Games, YS decided to pull it from the Steam platform in favor of the Epic Games Store.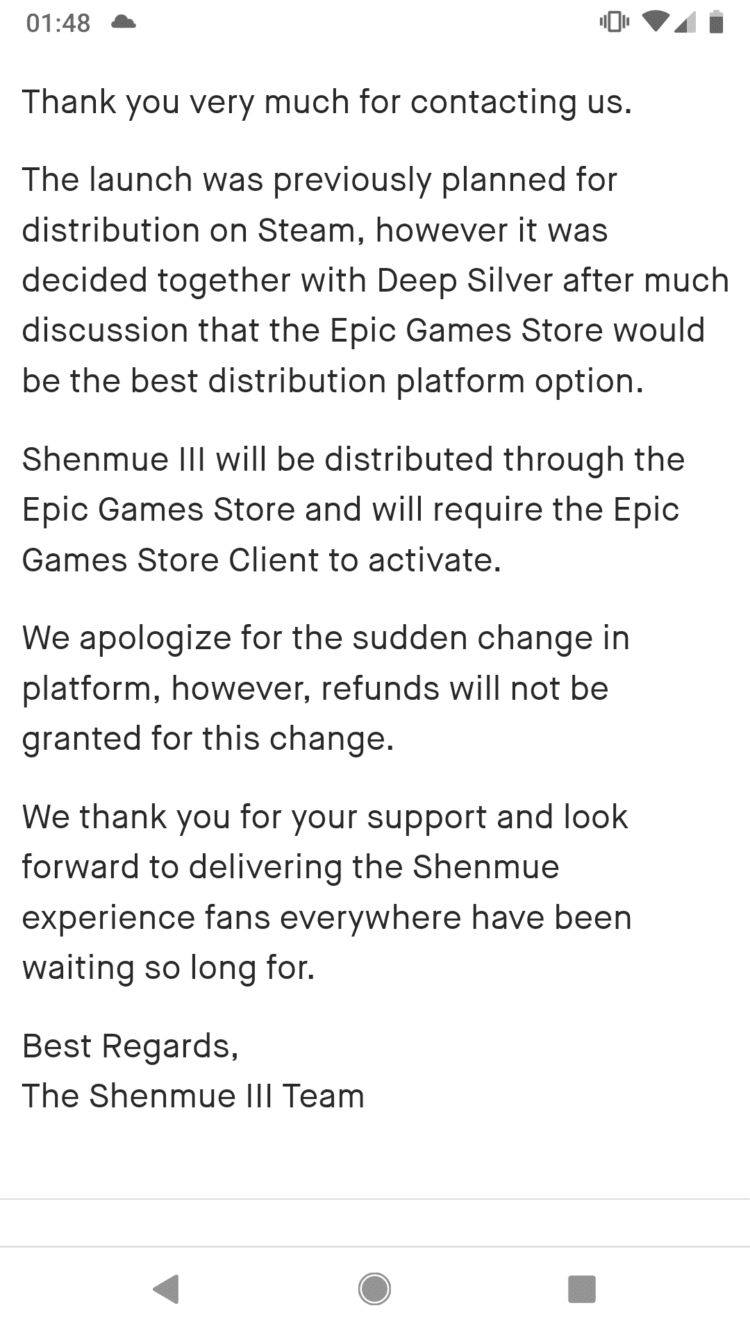 This has aggravated backers (as you can see in the comment section of the Kickstarter page), who see this as YS Games going back on their initial promise to release Shenmue 3 on Steam.
It's hard to say if this backlash will convince the studio to offer refunds to those who have supported the project. The company may not be legally required to offer anything to make up for their decision, as funds received are simply donations to help finish projects (which are unobligated to release with the exact specifications that they were initially given). With almost $6.5 million so far pledged to the game's Kickstarter, you would think YS Games and Deep Silver would have more than enough to send back, though. However, who knows how much of that they have already spent on game development and marketing.
This story is developing. Original story below:
---
Shenmue 3 was shown briefly during the PC Gaming Show. A new trailer (seen below) was released, showing a bit of combat and a chase scene, but we didn't receive any substantial update for the gameplay itself. However, right at the very end of this trailer was a little detail that has grabbed a lot of attention. There sat an icon indicating that Shenmue 3 would be coming to the Epic Games Store. And there was no note of a Steam release.
After a bit of digging, it turns out that the game will release exclusively on the Epic Games Store, as indicated by a post to the game's Kickstarter page released today.
Shenmue goes to Epic
"Development for Shenmue III has been moving forward using Unreal Engine and the support we have received from Epic has been excellent. But most importantly, in looking for the most enjoyable experience on PC, it was decided together with Deep Silver after much discussion that the Epic Games Store would be the best distribution platform option." -As posted by Ys Net on the game's Kickstarter page.
Interestingly, the Steam page for Shenmue 3 is still live at the time of writing. There, the game remains listed as intending to release on November 19 of this year. Perhaps no one has told Steam of the new exclusivity deal yet.
Fans were seemingly caught off-guard by this, and, unsurprisingly, they are not thrilled by this new development. Backers have already begun to fill the Kickstarter update's comments section with requests (to use a nice term) for refunds. Whether or not such refunds will be offered remains to be seen, just as we have yet to learn if the game will eventually come to Steam.
What are your thoughts on this new development for Shenmue 3? Are you surprised to see it go Epic exclusive, and will this affect if or where you purchase the title? Let us know in the comments.