Tom Clancy's The Division 2 is about to get a whole load of new content, a new specialization, and a bunch of major fixes. But one thing that isn't coming out just yet is the second raid. On Oct. 15, Episode 2 – Pentagon: The Last Castle will be available to Year 1 pass holders. Everyone else will need to wait until Oct. 22 before they can play. As for the raid, everyone will have to wait until 2020 for that.
Defending the last castle
As Washington D.C. is collapsing around you, the Black Tusk makes a move on the Pentagon. Agents will need to uncover the secrets inside and prevent them from falling into the hands of the enemy, all the while trying to solve the ongoing outbreak crisis wreaking havoc in the city.
The Division 2: Episode 2 will continue the story of humanity's battle to survive with two new main missions, which will require agents to secure a perfusion bioreactor that will allow them to replicate antiviral samples. The first mission takes place in the Pentagon's underground research facility. The Black Tusk is already inside the lab, and it's up to the players to prevent them from extracting the reactor.
The second main mission will take place in the DARPA Labs, where the Black Tusk is transporting the perfusion reactor through an abandoned Cold War tunnel. Once again, no one else is going to stop them, so it's up to you.
If the Pentagon falls, Washington D.C. is one step closer to being lost. And if Washington D.C. goes, the entire nation will follow. No pressure then for the agents who must defend it. Thankfully, players will be able to utilize a new character specialization to help get the job done. The Technician carries a multi-missile launcher as their main weapon, which can lock on and hit up to six enemies with the push of a button. They've also got an EMP grenade to deal with any pesky robotic enemies.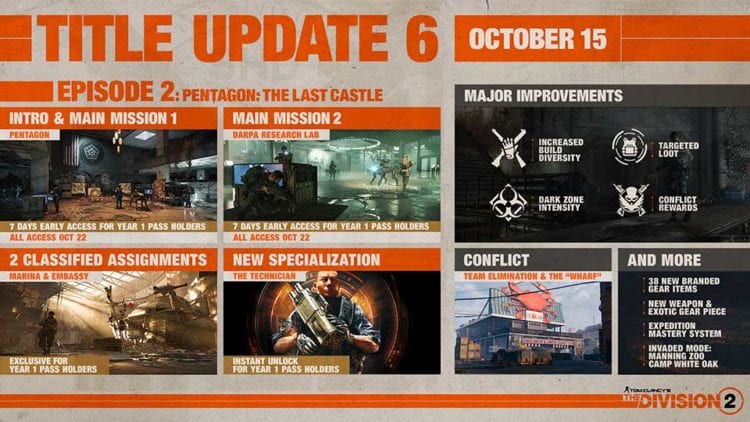 Fight among yourselves
A new PvP mode is also being introduced with The Division 2: Episode 2 update, Team Elimination. Two teams of four will compete in a best-of-seven battle in D.C. Each round ends when there's only one agent standing or when time runs out. A new map, The Wharf, is also being introduced to PvP. It's a similar size to the previous maps, but it's set in an abandoned fishing harbor.
If you haven't had a chance to play Tom Clancy's The Division 2 yet, then be sure to keep a lookout for the upcoming free weekend later this month.