The first eight-person raid is coming to The Division 2 for all players who are still staking their claim on Washington D.C. Operation Dark Hours sends players to reclaim Washington National Airport, which has been taken over by the Black Tusks. It appears that these thugs are using the facility to bring in more soldiers to tighten the group's control over the city.
As seen in the trailer below, the Black Tusks are heavily arms and ready to defend their turf. The Division 2 agents around the world will have access to the raid on May 16 at 5 pm BST / 9 am PST. This comes after a delay of the raid's original release in April.
As you'd expect of a raid that lets to bring in eight other players, Operation Dark Hours is meant to be The Division 2's most challenging mission yet. Difficult bosses and enemies armed with newer, more advanced technology await the veteran agents up to the task. Ubisoft encourages teams to work together efficiently and communicate effectively in order to face these daunting obstacles.
Players who complete the Operation Dark Hours raid will get new, exclusive loot, possibly some of that advanced technology the Black Tusks have been hoarding for themselves. There will also be a new exotic weapon, access to a new gear slot, and other raid-specific rewards for those who are able to take back the airport. These items have not been fully detailed by Ubisoft but can be seen vaguely in the announcement trailer above or in the screenshot below.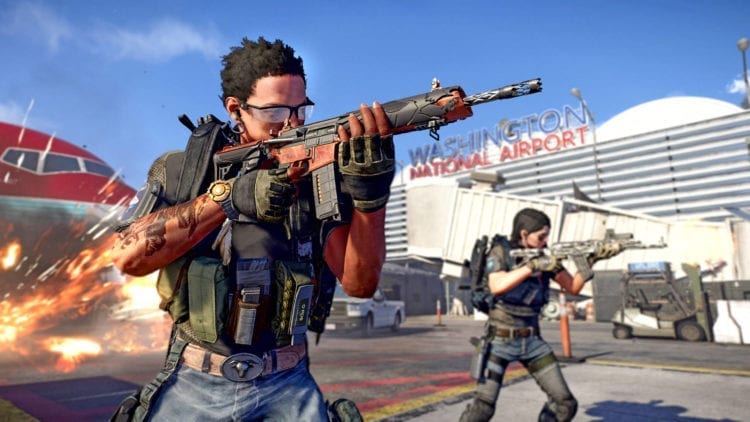 If competition from in-game enemies isn't enough for you, The Division 2 will be hosting a race to see what team can complete Operation Dark Hours the fastest. The team that beats the raid first will have their team's photo and clan name on display for all others to see in The White House. The race can be viewed over on the TwitchRivals stream immediately following the launch of the raid on May 16. Any team that completes the raid before May 23 will receive an exclusive Arm Patch. Those who finish it after the May 23 cutoff will still be given a new icon to decorate their clan banner, as well as a trophy to be shown off in their clan's social space.