In honor of QuakeCon 2018,  The Elder Scrolls: Online is offering players the chance to play The Elder Scrolls: Online for free as well as a  special sale on ESO: Summerset and Crowns which are 50% off, but only till August 15. If you choose to opt into this you will also receive an exclusive pet plus Twitch Drops. Talk about an awesome way to get new players into the game.
The free play event began on  Thursday, August 9 at 10:00AM EDT, allowing you to play The Elder Scrolls Online for free on all platforms (PC/Mac, PlayStation®4, and XboxOne). To do this simply access their free play event page or head to Steam and it should let you download it directly free of charge. Players will be able to enjoy the ESO base game as well as the Vvardenfell zone completely free until Wednesday, August 15 at 10:00AM EDT.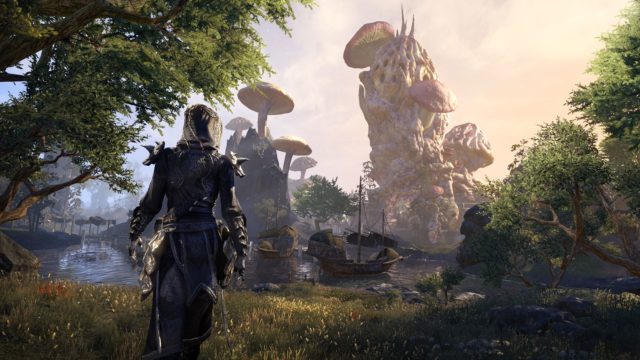 During their keynote, we will hear about ESO's future from ZeniMax Online Studio's own Game Director Matt Firor and Community Manager Gina Bruno.  Both will share all-new information on the upcoming Wolfhunter and Murkmire DLC game packs. Tune in today for all the juicy information.
What do you think? Will you take advantage of the free play event and sale? Are you already an avid fan of The Elder Scrolls: Online? Let us know. This is truly a fantastic way to celebrate Quakecon 2018 and give something back to the players. This seems to be a growing trend among developers to entice new players and gain extra sales from ones who already play the game.
It makes one want to check it out The Elder Scrolls: Online simply to take advantage of their generosity during Quakecon 2018 without the financial risk.
Related to this articleRelated to this articleRelated to this article
Tarah Bleier is a freelance writer, editor and content creator from Toronto. She currently actively writes for, Daily Esports, Nintendo Enthusiast, PC Invasion, Flixist and Outright Geekery. As a graduate from Centennial College's Journalism program, she has also written for Tribute.ca, Factinate.com and recently for Geek Enthusiast Magazine. In her free time, she loves gaming, cosplaying, prop making and attending as many conventions and geeky events as she can.