Today's Xbox Games Showcase was full of different titles, but The Medium definitely had the creepiest trailer. The video showed off the player's ability to explore different versions of reality, while teasing the story. The premise of the game reminds me of Silent Hill, and the lurking antagonist seems like evil incarnate. This new trailer gives us a good look at the upcoming horror-mystery game that's sure to cause nightmares.
In The Medium, players assume the role of Marianne, a detective investigating a particularly heinous murder case. There's a twist, though: Marianne can shift between reality as we know it and the spirit world. Developers Bloober Team call her a "medium," which describes her ability to travel and interact across dimensions. She's plagued by visions and they reflect the unseen energies at play. In the case of this game, the spirit world is a dark, twisted place full of evil.
The spirit world looks strikingly similar to how we remember Silent Hill. Reality is corroded and inhabited by mysterious life forms that look a thousand times worse than what we might find in the darkest corners of Earth. But capping it off is a shadowy antagonist, which is still a bit of a mystery. The entity spoke to Marianne in the trailer in eerie words that seemed to imply something about the murder. It could be that it was born out of suffering and resides there to haunt the world indefinitely.
A whole different kind of double vision
The gameplay experience looks very unique. As you can see in The Medium's dual-reality trailer, the engine renders both versions of the world simultaneously. Bloober further noted that the player controls both versions of Marianne with a single analogue stick.
Marianne can switch between worlds as needed to progress, and possesses special abilities in the spirit world. One such spirit ability is described as "Out of Body," though Bloober didn't explain exactly what it did. We'll hopefully find out more soon.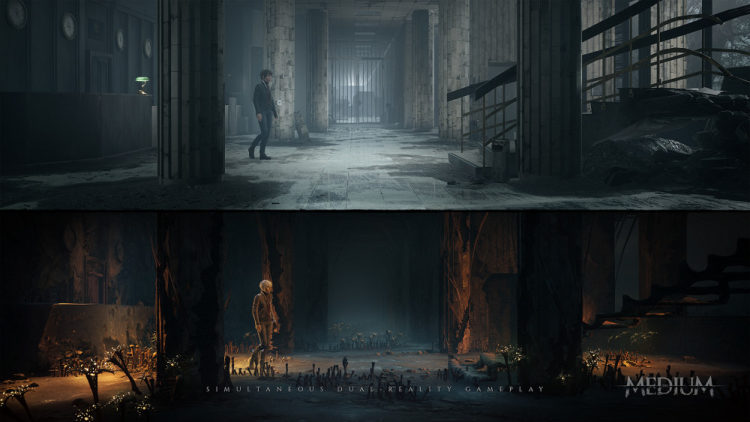 The Medium is being developed by Bloober Team, the makers of Blair Witch, Observer, and Layers of Fear. As that list shows, the studio is well-versed in horror and unique gameplay mechanics. As such, we can likely expect some memorable moments and unpleasant surprises from them.
You can solve mysteries and puzzles — all in the loving embrace of horror and evil — in The Medium this holiday season.